Universities unite to battle plagiarism
HCM CITY – The first national conference on academic integrity, held at Hoa Sen University on May 29, emphasized the importance of preventing plagiarism in the educational system in Viet Nam. 
The conference was organised by the university and Towards Transparency, a non-profit Vietnamese consultancy fighting corruption in Viet Nam, and FACE club (For a Clean Education), a joint initiative between Hoa Sen University (HSU) and the VID Ben Tre Group, with support from the organization, Towards Transparency.
Speaking at the opening ceremony, Dr. Bui Tran Phuong, the university's rector, said: "A society without honesty is unsafe, unhealthy and unable to live. Protecting honesty and integrity is to protect life. In the educational environment, academic integrity is essential to survival."
"The first conference on academic integrity will create a base to set up a network for universities to share their interest in this issue," Phượng said. "They will work with each other to create a detailed action plan for the implementation and enhancement of the network."
"Hoa Sen University will also seek partners to establish a network to strengthen integrity in education in order to contribute to developing a better society," she added.
Dr Bui Tran Phuong, rector of Hoa Sen University, spoke about academic integrity at a conference held recently in HCM City. 
Hoa Sen's deputy rector, Dr Pham Quoc Loc, said that his university had met with students to talk about plagiarism prevention.
Mr. Loc said that students at the meeting wanted to know why plagiarism should be prevented and what benefits would result from doing so.
"They also asked if I was sure if the university's lecturers did not plagiarise," he said. Loc said that Hoa Sen had to cancel a student contest about plagiarism prevention because the "students did not clearly understand what plagiarism is".
"Plagiarism is Viet Nam's specific characteristic. It is long-term consequence of education. It could be changed through educating students," he said.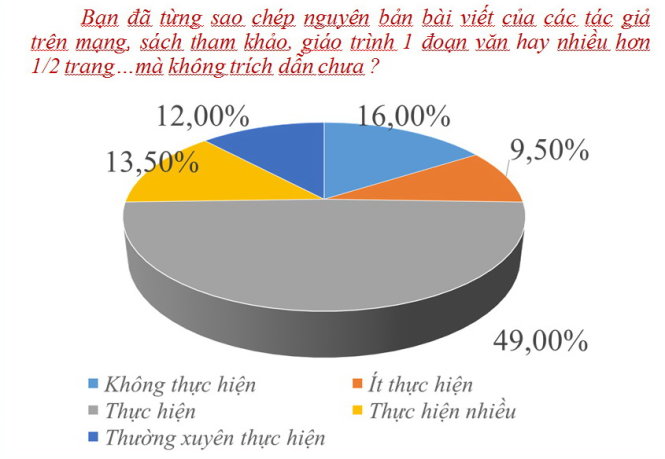 The results of a survey on plagiarism, conducted by Duy Tan University in Da Nang. 
Speaking at the conference, Vo Thanh Hai, deputy rector of Duy Tan University, presented results of a survey of first-year students on plagiarism.
The survey's main question was: Have you ever copied the entire version of any author's work found on the internet or in a book or textbook without quoting the author?
Hai said that only 16 per cent said "no"; 49 per cent, "yes"; 13.5 per cent, "many times"; 12 per cent, "frequently"; and 9.5 per cent, "seldom".
The students were also asked why they had plagiarised.
Thirty-six per cent said they "did not know how to quote"; 12 per cent said they "did not remember the author's name"; 21 per cent said "due to pressure of deadline"; 15 per cent said they "were not able to write better"; 9 per cent said they "did not care about quoting"; and the remaining were for "other reasons".
Vo Thanh Hai, deputy rector of Duy Tan University, speaks about ways to prevent plagiarism in the academic setting.
Dr. Do Ba Khang, head of Economics and Commerce Faculty at Hoa Sen University, also reported on the results of another survey of essays of 681 students studying human resources, tourism, finance, accounting, business administration and marketing at the Hoa Sen University.
Dr. Do Ba Khang, head of Economics and Commerce Faculty at Hoa Sen University
"The average similarity index (found by software that can detect plagiarism by similarity to other texts) was 29 per cent, higher than the international figure, which ranges from 10.61 per cent to 20.5 per cent," he said.
Also speaking at the conference, Dr Tran Long Giang, deputy head of the research institute at Viet Nam Maritime University, said the university had conducted research on plagiarism in textbooks and graduation theses and papers of post-graduates published in the Journal of Maritime Science and Technology.
"The research showed that a few of the post-graduates' theses were canceled because they had a similarity index with other sources. Many scientific papers were not accepted because of a high similarity index," he said.
Dr Tran Long Giang, deputy head of Vieät Nam Maritime University's Research Institute.
Several universities, including Hoa Sen and Viet Nam Maritime, have been applying software to detect plagiarism. The two universities use Turnitin software, which can check 4.5 billion websites and report  a similarity index. Duy Tan University also uses plagiarism software and Can Tho University is planning to use software as well.
Pham Anh Duong, a representative of Towards Transparency, said that if the software contains the database of only one university, plagiarism would not be solved. The software would not be able to detect many instances of plagiarism because students could be copying the original work produced by other universities.
To improve awareness about plagiarism prevention, speakers at the conference called on students, lecturers and managers of universities and colleges and the media to take part in the effort. Besides plagiarism, the conference also discussed building networks between universities to ensure academic integrity. 
The conference on academic integrity will be held annually to help universities review and evaluate activities each year. Universities and colleges that are part of the network will take turns hosting the conference.The conference attracted representatives from colleges and universities in HCM City and its neighbouring provinces, including Vieät Nam Maritime University, HCM City University of Food Industry, Thu Dau Mot University, Duy Tan University, and Can Tho University.
Reported by Ha An
Translated into English by Gia Loc