More than 2,5000 new students attend opening ceremony for 2015-2016 academic year
Welcome to the new academic year 
Hoa Sen University on October 3 held the opening ceremony for the 2015-2016 academic year for more than 2,500 new students at the Lan Anh Club in HCM City's District 10. This was the first activity of a number of lively activities scheduled to celebrate the 25 years of the university's establishment and development. Its 25 years of its existence confirms its position in scholarly activities, global outreach and liberal education.
New students attend the opening ceremony for 2015-2016 academic year
New students check in at meeting hall for the opening ceremony.
The opening ceremony attracted a large number of students and their parents.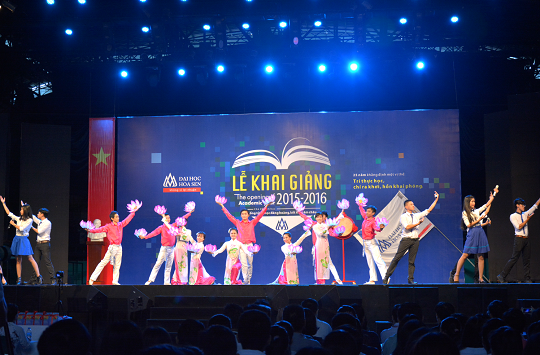 The Sun Rise Group performed dances and songs in the opening ceremony.
At the ceremony, Dr Bui Tran Phuong, the university's rector, congratulated the students for passing the difficult university entrance examinations. She also said that: all of you should know that Hoa Sen University has a flexible credit based system that allows you to take classes from the programs that you like. You can study for more than one major. You will find a lot of support you need from the university to complete your education here. We have nice libraries, high caliber faculty members, dedicated staff, a zillion activities, and a commitment to make you better connected and informed citizens. So do not waste your opportunities and time at Hoa Sen University. In this democratic and open environment, you have to respect everyone to earn respect." 
Dr. Bui Tran Phuong sent a message to new students:  So do not waste your opportunities and time at Hoa Sen University
Phuong invited the university staff to stand to welcome them, which surprised many of them. After that, the ceremony began with a drum being beaten to signal the start of the new school year. 
A drum was beaten to signal the start of the new school year.
Dr Do Ba Khang, dean of the university's Economics and Commerce Faculty, and a representative of the university staff, said: "You are studying in different faculties and majors, but this should not create a barrier between faculties. You should be proud of your faculty and university. "You should unite in developing the university. After graduation, you will be proud of things which you did in the university and in your young age." Khang added: "If you face with obstacles or failure, you should come to talk to your teachers, learning consultants, the university staff or friends."
Dr. Do Ba Khanh, Dean of Economics and Commerce Faculty
Turn your dream into reality
In the ceremony, the university presented 132 scholarships worth VNÑ7 billion (US$311,111) for new students. Of these, 39 were for gifted students, 10 for disadvantaged students and 83 for encouragement of learning. Hoang Viet Tuan, who had a physical disability, received one of the four-year scholarships for disadvantaged students. 
Hoang Duc Binh, head of the university's Communication and Enrollment Division, said: "Through the scholarships, the university certifies your efforts. The university hopes that they will support and encourage you to have strength to overcome your fate and change your life."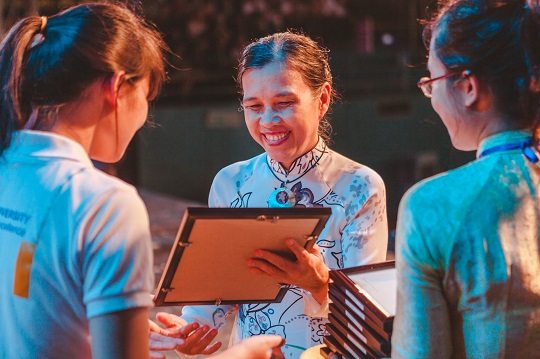 Dr Bui Tran Phuong congratulated and presented scholarships to new students.
Students with excellent exam and study results received scholarships during the opening ceremony. 
Congratulations were given to disadvantaged students who received scholarships.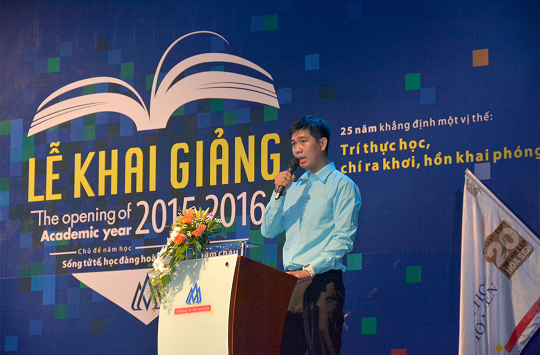 Pham Duy Thuc – an alumni of Hoa Sen University gave a speech 
New student Nguyen Thuy Doan Trinh receives the university's traditional flag 
To Thuy Diem Quyen, Microsoft Innovative Educator Fellow, spent time giving useful advice to the new students about academic preparation and necessary skills for meeting the higher demands of enterprises. She said: "To change the world, you should change yourself. What you want to become is your choice. I believe that not one of us chooses to live a life without challenges!".
Nguyen Thuy Doan Trinh, a representative of the university's new students, who received a four-year scholarship for gifted students, felt moved and proud. She said that she was determined to try her best and not betray the expectations of her lecturers and parents.
The ceremony ended with unforgettable feelings. Its success leads to a new school year with a promise of victory for the university staff and students.
 
 University lecturers, guests and new students who received scholarships take photos to remember the important day.
Nguyên Minh
Translated into by Phan Nhi