Academic year 2013 – 2014: Nearly 3000 new Students Welcomed to Hoa Sen University
On the morning of October 5, 2013, Hoa Sen University (HSU) held the formal opening of the New Academic Year 2013 – 2014 at Lanh Binh Thang Sport Event House. Representatives of HSU's Management Board, faculty, staff, special guests, friends and nearly 3000 new students from various majors and programs at HSU were welcomed.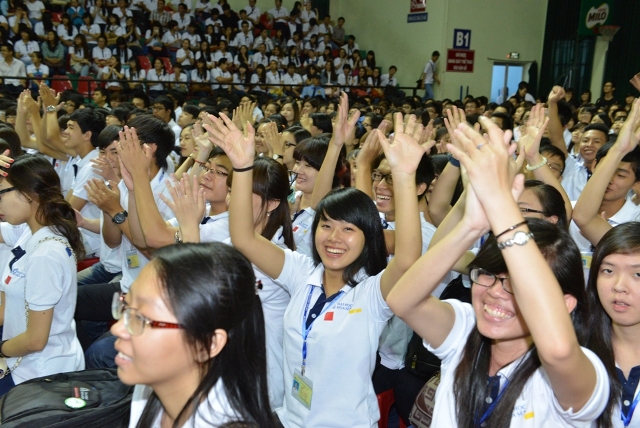 For the new academic year, HSU officially welcomed a total number of 2936 new students: 2403 students are enrolled in a four-year study program, 482 students are at the three-year college level, and 51 students are transferring from a three-year program to a four year program. The results of the 2013-2014 enrolment increased the total number of students being presently trained  at HSU to nearly 12,000. This scale of increase will contribute to the enhancement of training and development of a high-quality workforce for society in the future.
During her opening speech Dr. Bùi Trân Phượng, President of the University, warmly greeted all participants. She addressed her high appreciation to the parents of the new students and the new students because they chose HSU as a place where they will obtain high-quality education and training.  Dr. Phượng also encouraged the new students to make every effort count during the process of learning and training. Ms Phượng said: "I hope you will study as you must – not only diligently, but also actively and creatively – and improve your independent and critical thinking, play and rest smartly, ride carefully, and practice English as much as possible in order to become the most qualified Bachelors from Hoa Sen University in the near future."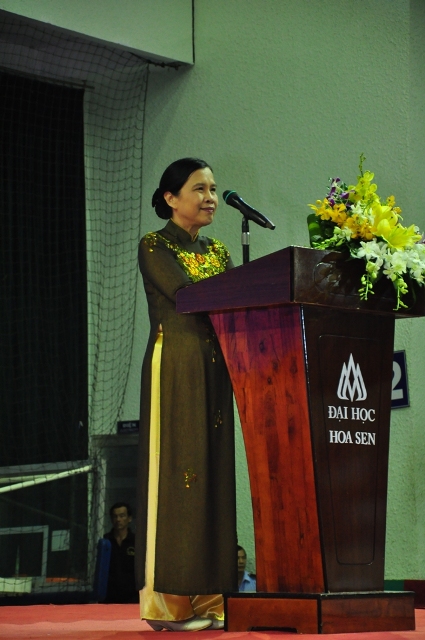 Because of opening of the new academic year, Dr. Bùi Trân Phượng also provided numerous bits of information about learning opportunities at HSU for the students and their parents to choose studies that are their own choice. For example:  various exchange programs at students'choices, students may choose to study one exchange semester in countries such as Thailand, France, Malaysia, Belgium, Taiwan, or the United States of America. The courses are taught in English, so they may improve their English as well as learn about the cultures in the destination countries. 
In addition to the President's speech during the opening, the Deans and Deputy Deans of the Faculties and Departments presented their particular programs for teaching and training to the new students, and gave them encouragement to try their best in the process of learning and training at this University so as to find good job opportunities in the future.
Ms. Đao Thi Hai , MA – Deputy Dean of Polytechnic
Dr. Pham Quoc Loc – Dean of Languages and Cultural Studies
Mr. Nguyen Trong Duy , MA – Deputy Dean of Science & Technology 
Dr.  Do Ba Khang –  Dean of Economics and Commerce
Prof. Vu Đuc Vuong – Director of General Education Program
On this exciting day, the University offered the new students 40 scholarships having a total value of 1,130,000,000 VND for excellence. Scholarship Awards are given for talented students, for students who overcame hardships, for encouraging students to learn, to encourage students to study science and technology, and scholarships to encourage a three-year college program for learning. These awards are the spiritual and material support of HSU's teaching staff for new students.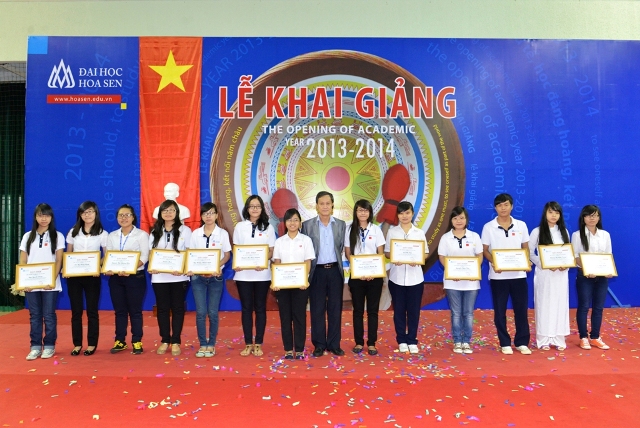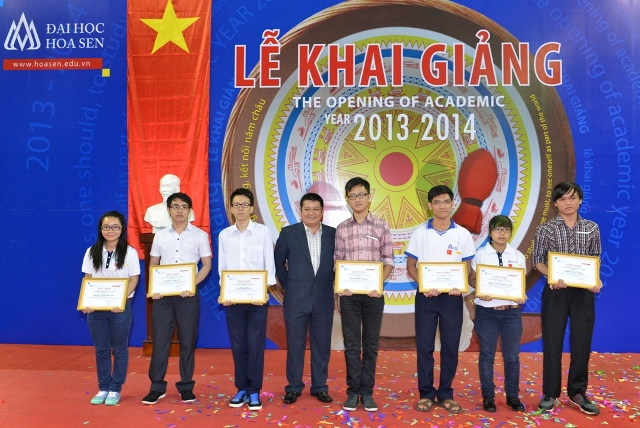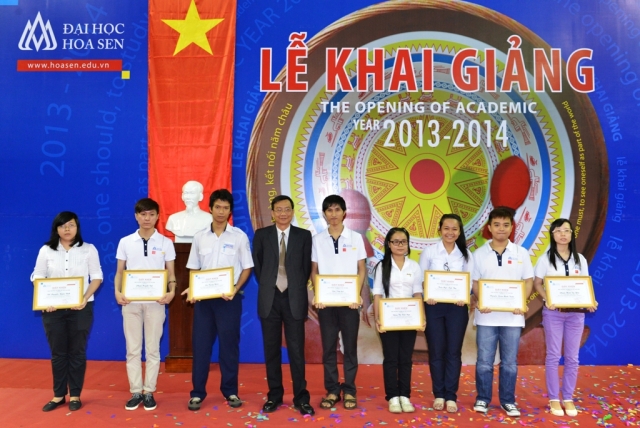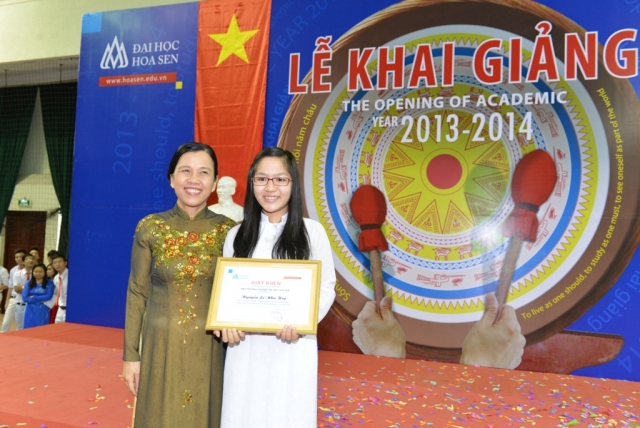 Dr. Bui Tran Phuong, President of Hoa Sen University – offered the scholarships for talents to the new students
During the opening ceremony the new students donated 4,636,000VND to support Lê Thị Minh Tuyết – a fourth-year student in the Faculty of Economics & Commerce – who is in a daily battle against last-stage chronic renal failure. This honorable deed by the new students exemplifies the human value and spirit of the HSU community who care for people in need.
From 2015 onwards, Vietnam will become an official member of the Asian Economic Community, which will bring numerous opportunities as-well-as challenges to young laborers in Vietnam. They must compete with not only domestic laborers but also with laborers from other Asian countries working in Vietnam. In order to participate in this competition, young laborers must prepare themselves with advanced knowledge, living skills and values for working in a multinational environment.
Being well aware and paying much attention the importance of this important matter, HSU has internationalized its educational environment in recent years. In 2011, the University introduced four new majors that students could choose from, a curriculum taught in English or in Vietnamese; even in the Vietnamese curricula some subjects are taught in English as well. Standard English is a regulation at Hoa Sen University the requires that every graduate gains an international level of English. That's why the academic year 2013-2014 is the second year in which Hoa Sen University continues its operations under the motto: "To live as one should, to study as one must, and to see oneself as part of the world". Accordingly, during this academic year, the HSU staff and students will perform with the main subject in mind, which is "to study as one must", enhance the spirit of "thirst for learning and thirst for knowledge". Every student should increasingly improve their knowledge, develop their skills, and study as they must do so that they can confidently enter the highly internationalized working environment with numerous requirements and challenges.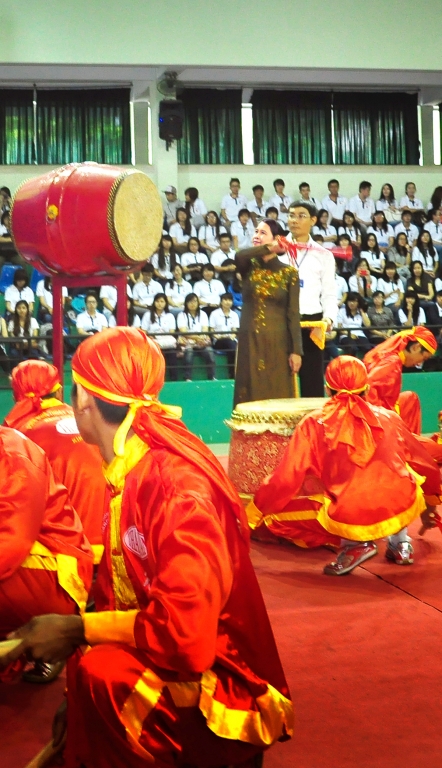 Dr. Bui Tran Phuong, President of Hoa Sen University – beat the drum for opening the new academic year
Huu Tri
Translated into English by Doan Thi Ngoc