2015 Graduation Ceremony: be touched and proud of becoming students of Hoa Sen University
On June 20, Hoa Sen University held the first graduation ceremony for 535 students passing out of university, college and technical school this year.
The ceremony was attended by guests of the university, lecturers, students' parents and the 535 graduates.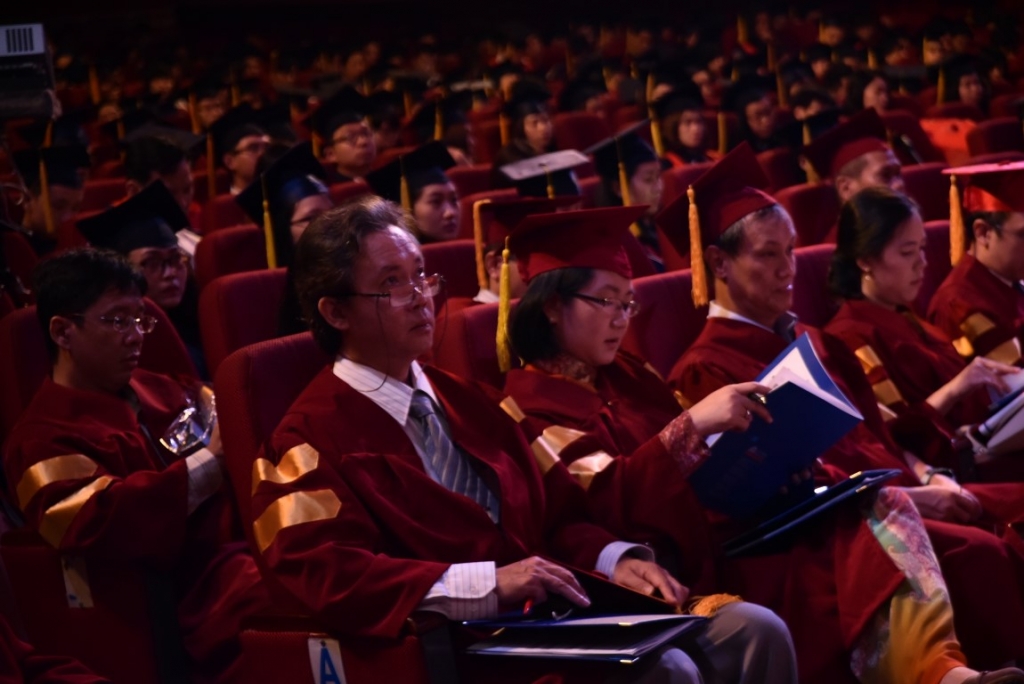 Lecturers of Hoa Sen University
Thoughts for non-profit and threat from China
In speech of the university's rector Bui Tran Phuong, she highlighted "two issues relevant to the mission and vision of the university, and to the core values that the university has embraced since its establishment in 1991."
These issues include "non-profit mindset and the threat from China," said Phuong.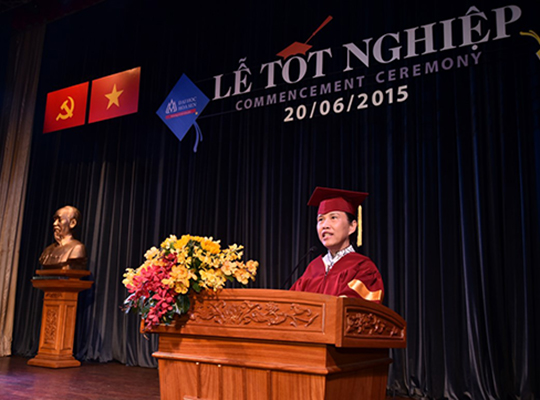 Dr Bui Tran Phuong
"As mandated by the Vietnamese 2012 higher education law and the decree with reference to not- for- profit universities, there is a cap on appropriation of the surplus money for dividends. And most of the money must be put into education, which has always been and will always be the primary objective of Hoa Sen University now and in the future."
For "mindset for non-profit", Phuong said: "The not for profit mindset is the sense of community or civic responsibility. The most important thing is that you should have the mindset which launches you forward in the job market and the one which enables and asks you to have social impacts."
"I would urge that you will follow the university and do your part to ensure Hoa Sen continues to reinvest most if not all of its surplus revenue in education and community engagement. I would urge that you continue doing what you did, that is raising tough questions to the university administration of how tuition fees are used and how the university's core values are preserved and promoted. And I would also urge that you, like other alumni, maintain connection with us have a real impact on the future of the university."
Moreover, she talked about China's conspiracy and activities. She urged: "As Vietnamese citizens, you should know about this incident, have an attitude toward it and should adopt an appropriate action.  Regardless of your future career, you will always think of your countrymen and the fate of this country and want to do something for it."
 
Le Tuan Dung, a representative of BTEC Higher National Diploma
Le Tuan Dung, a representative of BTEC Higher National Diploma, the university's partner, said: "You should not hesitate to face changes. You should be ready to grasp opportunities to be successful."
Luong Thi Thuy Tien, head of the Anh Mỹ Hotel Management Joint Stock Company
Luong Thi Thuy Tien, head of the Anh Mỹ Hotel Management Joint Stock Company, shared her precious experience in looking for jobs and adapting to the work environment. She said the three most important things are basic knowledge, attitude and responsibility towards job.
Growing in future
This year the university saw the ratio of students getting jobs immediately after graduation rise by 21.96 percentage points from last year to 80.66 per cent. Many faculties — fashion design, IT, hotel administration, tourism administration and travel (university level), human resource administration (college-university interlinking level), network administration (college level) — saw all new graduates get jobs. Since 2012 new graduates' average income has risen from VND 4-6 million then to VND 6-10 million (US$286-476), a fairly high income in the difficult economic situation.
Of the 535 new graduates, 30 got the first and second rank in graduation exam. Sixty-six others had excellent or good results.
Pham Duy Thuc
Pham Duy Thuc, the IT faculty topper, represented all new graduates to say a sincere thanks to lecturers and parents. He urged all the students to be confident and brave when faced with difficulties, to be persistent to turn their dreams into reality and to live responsibly.
"I vow to carry out Hoa Sen University's aspiration to contribute to human and social development in Viet Nam. I vow to let my knowledge and skills and professionalism be used and shared properly for the Good of the community. I vow to never stop developing myself or lose my honesty and integrity."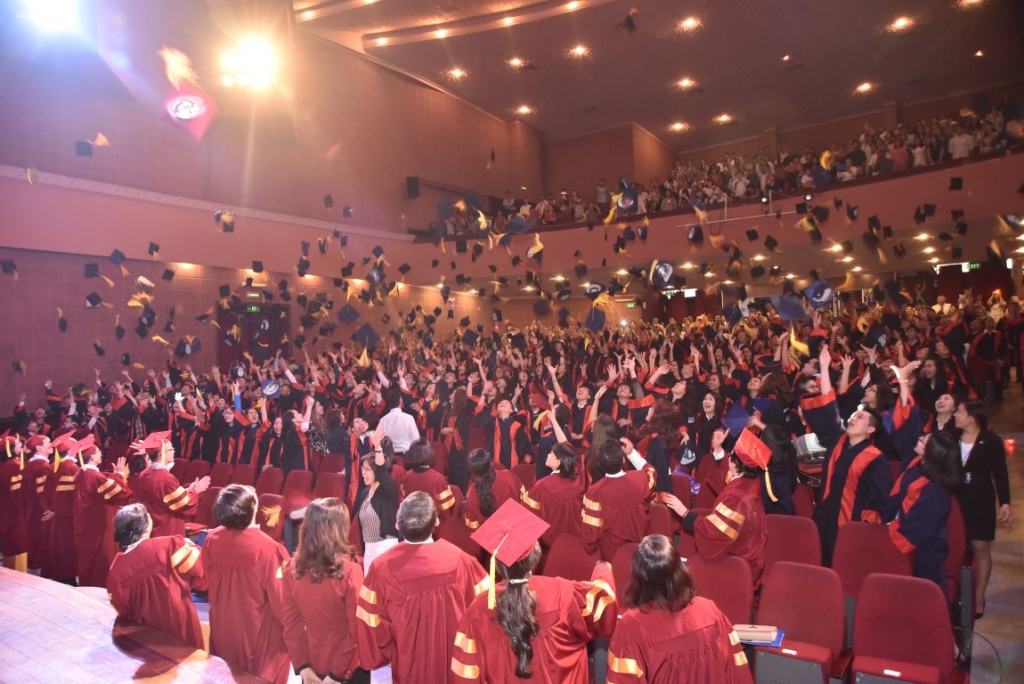 Many parents attending the ceremony were moved to shed tears of happiness. Tran Thi Banh, mother of Dao Thi Thanh Ha, a finance-banking graduate, said: "Nothing makes me happier than attending the ceremony to see my daughter holding the graduation certificate. I want to say thanks to the university's lecturers."
At the end of the ceremony, all newly graduates tossed their graduation caps. The caps were flown with their ambition. They have just reached an important milestone in their lives. With knowledge they acquired at the university and enthusiasm, they will surely contribute to the country's development.
 
Hue Van
Translated into English by Gia Loc