HSU signed MoU with the Australian National Music Examination Council, promoting training and fostering young musical talents
On May 23, 2022, Hoa Sen University (HSU) and the Australian National Music Examination Board (AMEB) jointly held the Signing Ceremony of Memorandum of Understanding in an online form.
Attending the signing ceremony were Assoc. Prof. Dr. Vo Thi Ngoc Thuy – Rector of HSU, Dr. Phan Thi Vietnam – Vice President of the school, Mr. Bernard Depasquale – CEO of AMEB, Mr. Robert Dugdale – Chief Operating Officer of AMEB, Dr. Tanya Nguyen Minh Thanh – Ambassador of AMEB in Vietnam.
The Australian National Music Examination Board (AMEB) is Oceania's largest and most comprehensive examination organization with over 100 years of history. AMEB has held more than 7 million exams and offers 42 instrumental and vocal courses in AMEB's vast musical repertoire, suitable for all ages, levels, highly systematic for both professional and amateur learners. AMEB is associated with more than 20,000 teachers in more than 5,000 schools. AMEB qualifications are not only recognized nationally but also internationally.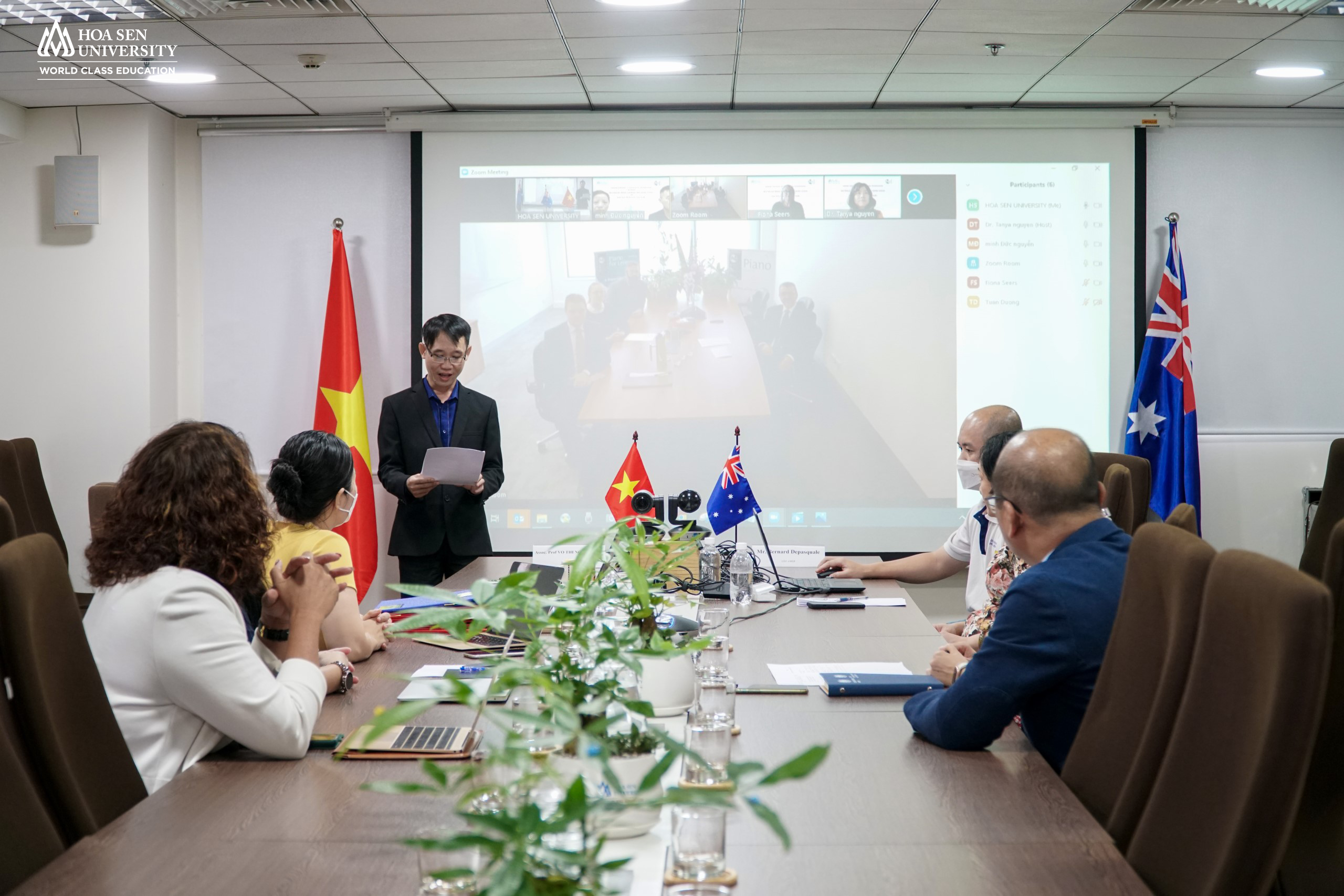 Trên cơ sở nội dung hợp tác đã ký kết, hai bên sẽ trao đổi, xây dựng kế hoạch để cùng triển khai một số nội dung, bao gồm: Teaching AMEB curriculum to students, students who love music and are musically gifted, study and take AMEB exams; Training teachers and lecturers in the field of music; Organizing music-related programs, events, and competitions for students; Organize summer music programs… In particular, the two sides will consider establishing an AMEB Center at HSU.
Speaking at the signing ceremony, Assoc. Prof. Dr. Vo Thi Ngoc Thuy said, in order to meet the needs of comprehensive development for the young generation, HSU has long included Music Perception in the school's curriculum: "The signing of this cooperation agreement with AMEB is a favorable foundation for HSU to train majors in music in the near future."
Along with that, Mr. Bernard Depasquale representing AMEB shared: "We believe that, with the dynamism and creativity of the leaders and employees, HSU will reap many successes in the coming time. AMEB is pleased to accompany HSU in the music development program at the University and today's event marks this partnership."
Through the cooperation program, HSU and AMEB will bring music education programs of international standards to students, students and music lovers in Ho Chi Minh City. Seeking and fostering young talents in the field of music, as well as training a generation of young people who are not only good at their profession but also have the ability to appreciate music. Besides, the two sides will also create more opportunities for you to experience the international standard method of music assessment and to own the prestigious certificates of AMEB, adding more baggage on the path of career development.