The emotional graduation ceremony of 700 new faculty members of HSU
On August 6, Hoa Sen University (HSU) solemnly held the 39th Graduation Ceremony for nearly 700 students at Hoa Binh Theater (District 10, Ho Chi Minh City) with the theme "Broad way – Avenue of talents".

Attending the Graduation Ceremony were Mr. Peter Paczuk – Deputy Consul General of Hungary in Ho Chi Minh City, the School Board of Directors, Heads/Deputy Heads of Faculties, Institutes and Centers, 700 new graduates and 1,400 parents and friends of new graduates.
Dare to dream, dare to change

Among HSU's 39th graduates, there are 1 university valedictorian, 19 major valedictorian, 13 major runner-up and 200 excellent and excellent graduates from 8 faculties: Information Technology, Social Sciences – Law, Languages – International Cultures, Economics – Business, Design – Art, Tourism, Logistics – International Trade, Finance – Banking.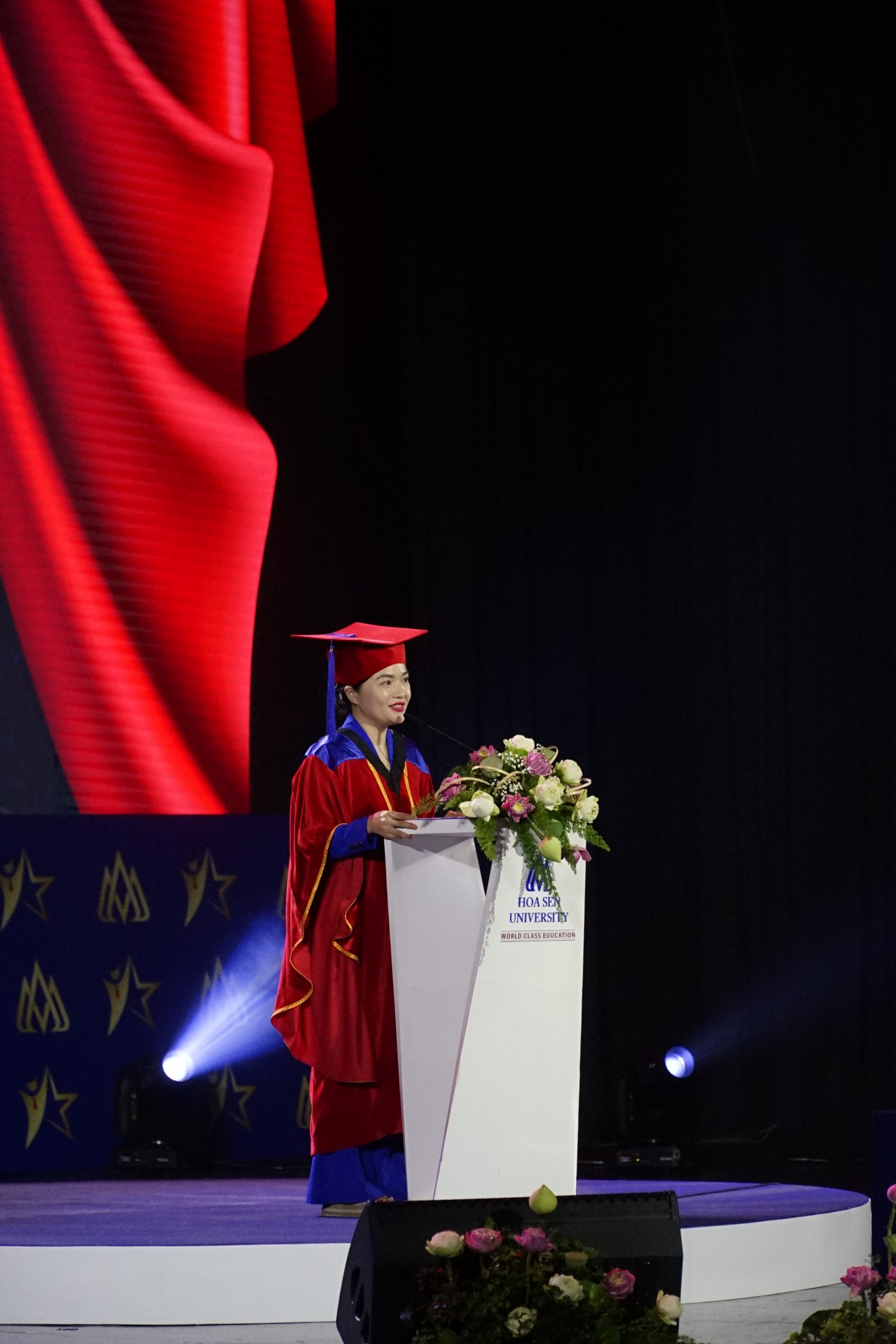 Speaking at the Graduation Ceremony, Assoc. Prof. Dr. Vo Thi Ngoc Thuy – President of the University sent to the students: "Maybe when you step into Hoa Sen, you are not the best, but when you step out of Hoa Sen, I'm always proud that you are the best version of yourselves. After a few years, some of you here will be a CEO, a senior professional, a lecturer, and maybe some of you are having a hard time facing a certain turning point in life. That is completely normal… No matter who you are in any social position, success is measured by the value you pursue, and spread it, bringing happiness to yourself, your family and society. Therefore, I would like to share with you 3 things, these 3 things are flowing in every person of each Hoa Sen student: Liberal spirit – entrepreneurial spirit, overcoming self-limitations, making and being different".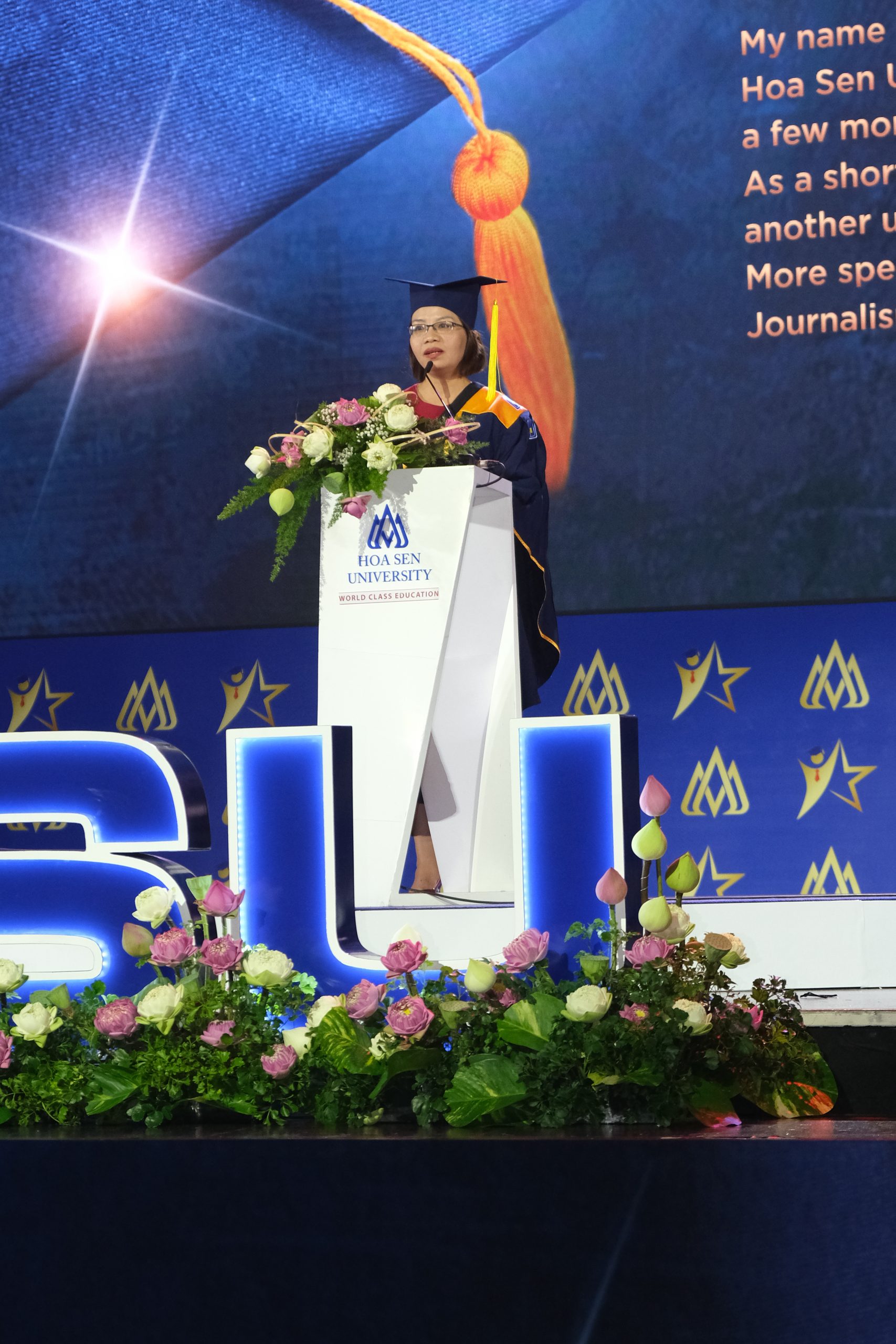 Especially, the valedictorian of Hoa Sen University this time is Nguyen Thuan Anh, a 40-year-old student. Anh graduated from university majoring in Journalism at another university and has a stable job in line with her major. However, with passion and dream of becoming a psychotherapist, Anh decided to continue her study journey at Hoa Sen University when she was nearly 40 years old. The relentless efforts of this special "new bachelor" has brought the title of valedictorian of Hoa Sen University with a GPA of 3.81/4.0.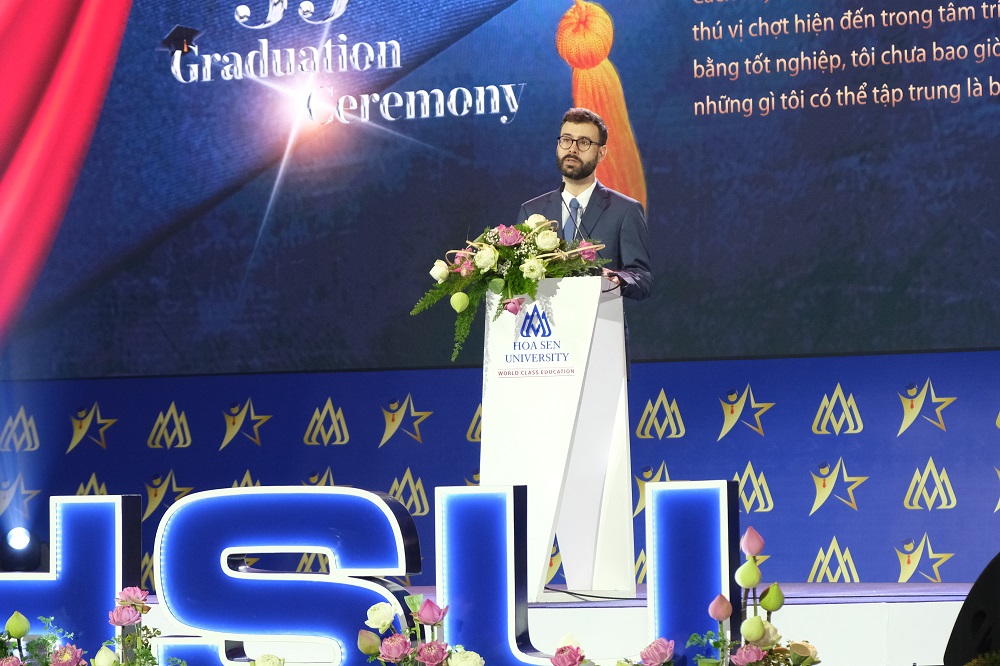 Sharing at the graduation ceremony, Thuan Anh said: "Amidst the existential crisis of human life, among the questions: "What is a job that gives meaning to myself?", "What are the values I want to pursue?", I have studied Psychology of Hoa Sen University. This is a very difficult decision; I am faced with the choice of continuing with my previous stable life or embarking on a new path. At that time, I realized that people usually only regret the things they didn't dare to do, not the things they had the courage to try. Therefore, I chose to return to university at an age that was not too young. I think that my success as well as my fellow graduates is not the fact that I have achieved something big or special, but that I have the courage to commit to doing something that I should do, need to do, and dare to persevere and make efforts to go to the end of that path."

The story of valedictorian Nguyen Thuan Anh is the story of the journey to pursue a dream. As long as you have passion and determination, all the differences and changes are worth it.

A generation of talented and energetic new graduates

With the meaning that the path for talented people is still open, Hoa Sen University's 39th Graduation Ceremony is themed "Broadway – Avenue of Talents". This is the most prestigious theater stage, gathering the quintessence and artistic talents in the world. This image also represents the new graduates of Hoa Sen University, talented and enthusiastic young people who reunite on the stage of the 39th Graduation Ceremony.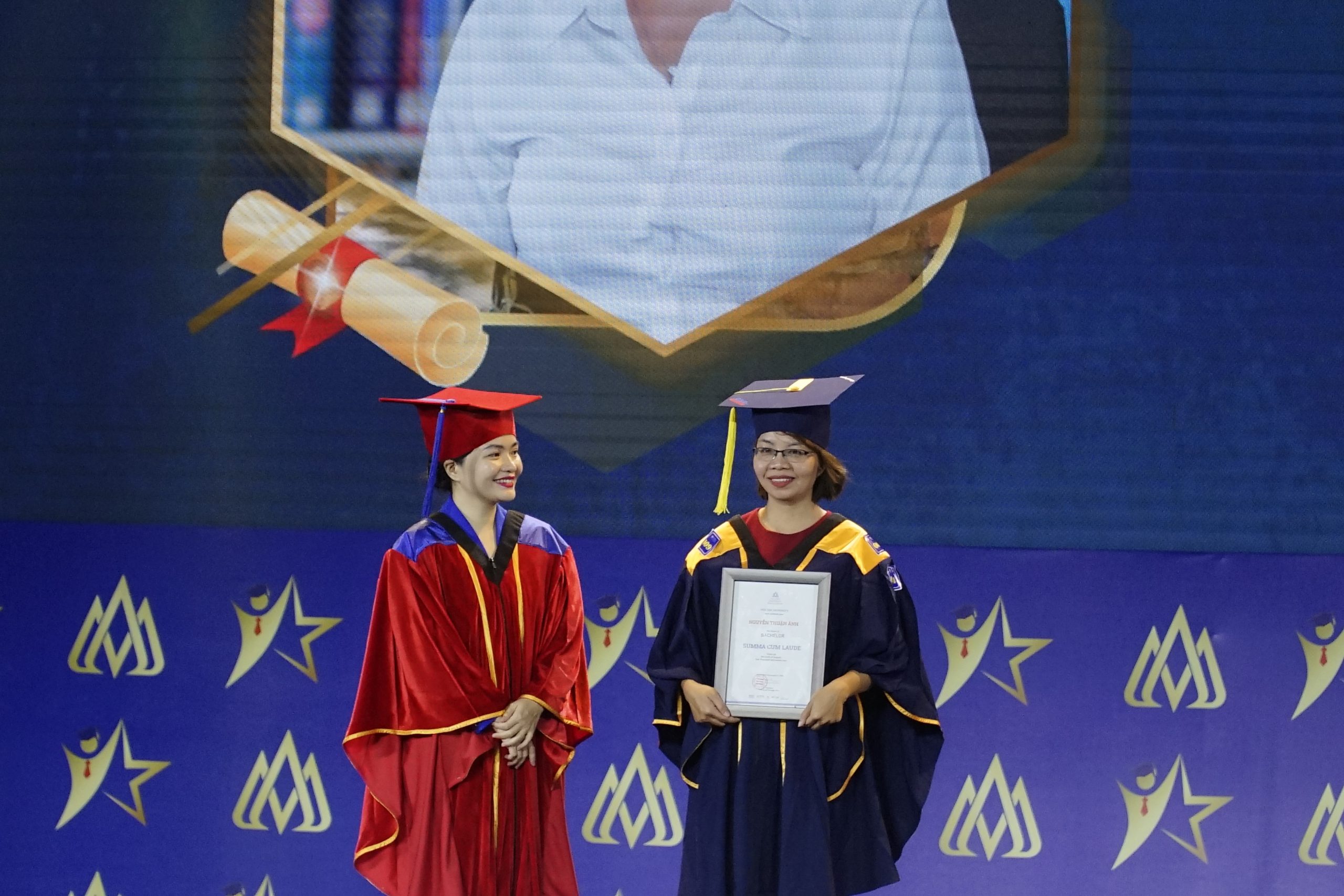 In this new batch, there are many students who are outstanding talents of Hoa Sen University. Among them is Designer Nguyen Minh Duc – a student of Fashion Design who is the Founder/Creative Director of Duc Studio fashion brand. Do Thi Ly Nin, a student majoring in Interior Design, won the second prize at the Loa Thanh Award 2020. Pham Hoang An – a student majoring in Communication Technology Management, is the owner of many awards for debate, besides, An is also a special case when she completed her study program at Hoa Sen University in just 2.5 years.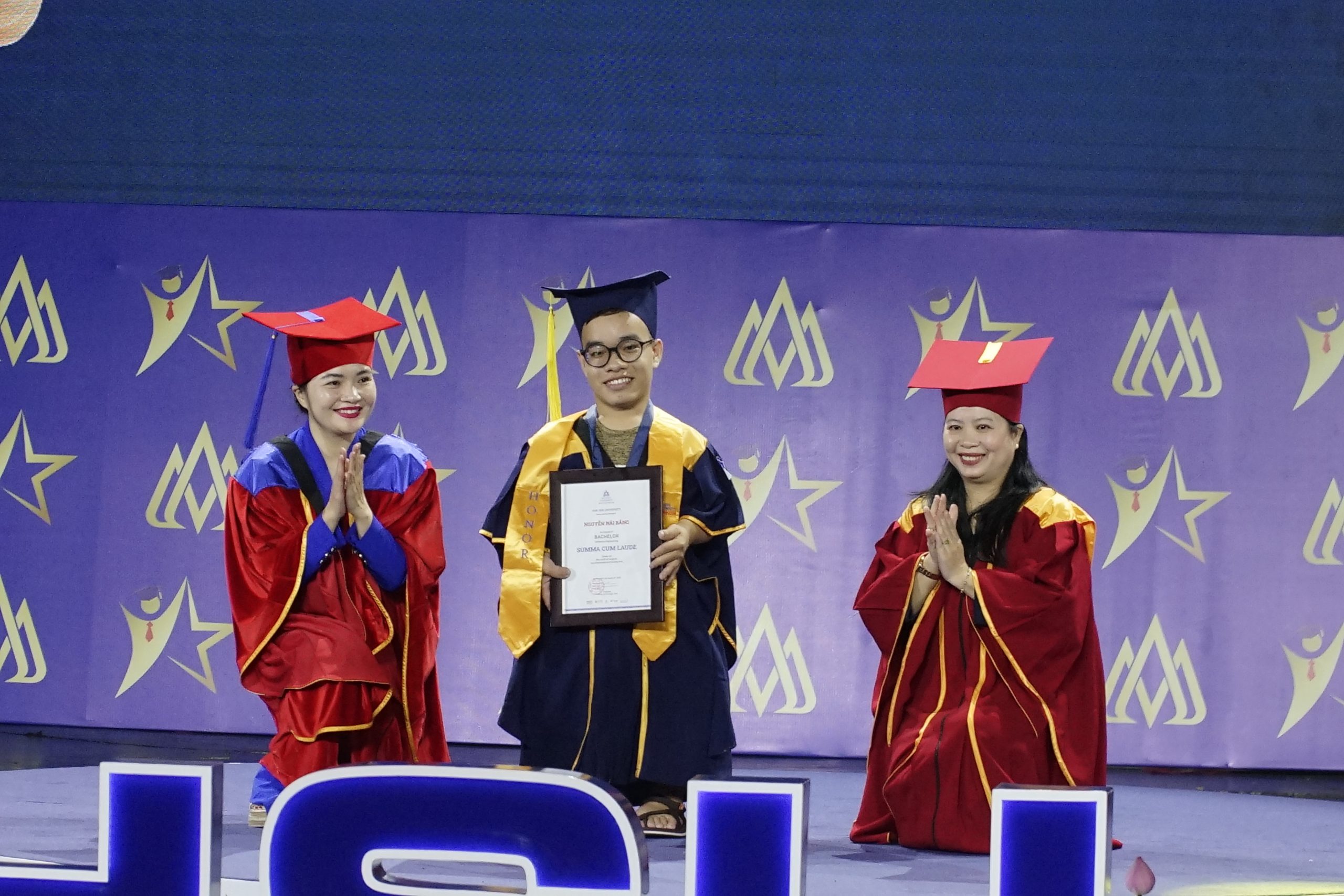 In addition, cases like Nguyen Hai Bang – valedictorian in software engineering overcame physical barriers to become valedictorian, new bachelor Tran Le Kha Ai – a girl with congenital hearing loss also took away many tears from students and parents during the ceremony.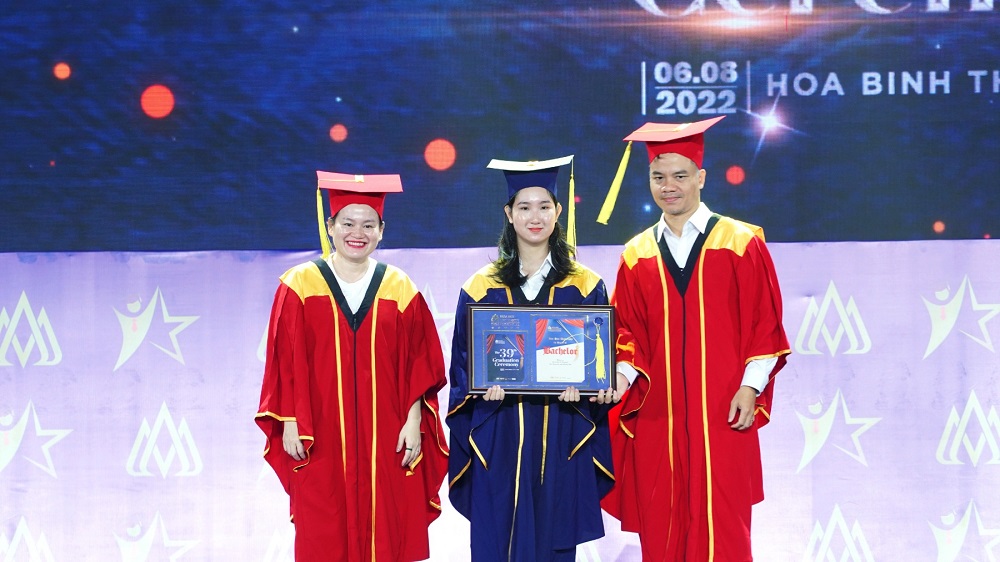 In addition, this graduation ceremony also recorded that more than 90% of students had jobs even though they had not graduated, many of them are working abroad or working in large domestic and foreign companies and enterprises.

Graduation 39 marks an important milestone for students, a journey has ended and a new journey opens with more opportunities. Hopefully, with the baggage at HSU, the new bachelors will be more confident to continue writing their dreams.