Hoa Sen University launches Alumni Association "Hoa Sen University Alumni Network"
In order to increase the continuous experience for learners, not only for students but also for alumni, on September 17, 2022, Hoa Sen University (HSU) launched the Alumni Association called "Hoa Sen University Alumni Network".

The Alumni Association of Hoa Sen University is a gathering place for many generations of alumni and graduate students (MBA) of all training systems who have studied at Hoa Sen University and are currently working, operating, living at home and abroad.
The purpose of "Hoa Sen University Alumni Network" is to gather and mobilize generations of students who have studied and researched at the University to participate in activities of friendship, solidarity and mutual assistance in spirit and material in life – profession; Upholding the fine tradition of generations of alumni; Create opportunities for alumni to participate in university activities, mobilize resources from businesses and socio-economic organizations to build practical experiential activities that enhance the experience for alumni as well as existing students; Acting as a bridge between generations of students in order to promote cooperation in training, research and transfer of science and technology to serve the task of socio-economic development between the University and localities, businesses and organizations at home and abroad.
Assoc. Prof. Dr. Vo Thi Ngoc Thuy – President of Hoa Sen University said: "The school cherished the establishment of the Hoa Sen Alumni Association 3 years ago, however, because of the pandemic, it has not been able to do so. Today, when I can meet and witness the gathering of alumni in this cozy space, I am really grateful to the generations of teachers of Hoa Sen many years ago, they have contributed to creating many generations of talented students. We believe that, "Hoa Sen University Alumni Network" will be a place to connect alumni and students together and create many useful values for the community and society."
Assoc. Prof. Dr. Vo Thi Ngoc Thuy presents the flag of the Alumni Association to Mr. Vu Do Tuan Huy – President of the HSU Alumni Association.

At the ceremony, the Alumni Association of Hoa Sen University launched the Executive Board with many successful alumni who are holding high positions at enterprises in many fields. In which, Mr. Vu Do Tuan Huy – General Director of Information Technology of Mai Linh Group, CEO of Mai Linh Connecting Technology Company is the Chairman of the Alumni Association. He is also an alumnus of HSU's Department of Information Technology. Mr. Ngo Dinh Luu Tieng – Secretary of Go Vap District Union, alumnus of Logictics and International Trade and Mr. Le Thai Huy – Deputy Director of HSU Student Employment Experience Center are 2 Vice Presidents of the Association. In addition, 10 other alumni of HSU are also on the executive board of "Hoa Sen University Alumni Network".
Mr. Vu Do Tuan Huy – President of HSU Alumni Association shared: " You may not know, for the past 20 years, I have always been watching the activities of the University, sharing joy and sadness with our students. Even the surveys of students to research I also participate. Today, assigned by the School Board of Directors to lead the alumni association, Huy believes that with experience, "fighting in the battlefield" and small successes in life, Huy and the alumni will create values for Hoa Sen students. And this will be a very beautiful piece of our Lotus roof."
According to the plan, the HSU Alumni Association will undertake many important tasks such as: Organize the Alumni Conference every two years, organize the annual traditional meeting for all the alumni of the University on the occasion of the celebration or the traditional day of the University. In addition, the Association will organize workshops to exchange career orientation, cultural and fine arts exchange activities, activities of hobby clubs for alumni and students in order to promote the spirit of solidarity and cohesion among generations of students of the university. At the same time, members will participate in networking, exchange and cooperation in the business community at HSU's Business Club.
In addition, the Hoa Sen Mentoring Program project of the HSU Alumni Association was also launched at the ceremony. Hoa Sen Mentoring Program provides Mentoring programs exclusively for students of Hoa Sen University. To help students have a better view of their future career choices, gain work experience, connect with industry experts, and have the opportunity to develop yourself to achieve your goals in life.

At the launch, Hoa Sen University also signed cooperation agreements (MOUs) with 12 large enterprises to enhance the student experience including: Au Chau fashion and cosmetics company limited; Apollo Education and Training Organization Vietnam In Ho Chi Minh City; Vmg Communication And Technology Company Limited (Viet Mobile); Dien Quan Group Joint Stock Company; MCV Group Joint Stock Company; MINHVIETCORP Investment Joint Stock Company; Vietnam Motivation Joint Stock Company; Topcv Vietnam Joint Stock Company; Xich Viet Joint Stock Company; We Study Education Consultant Co., Ltd; Weset English Center Company Limited and We Travel Travel Service Company Limited.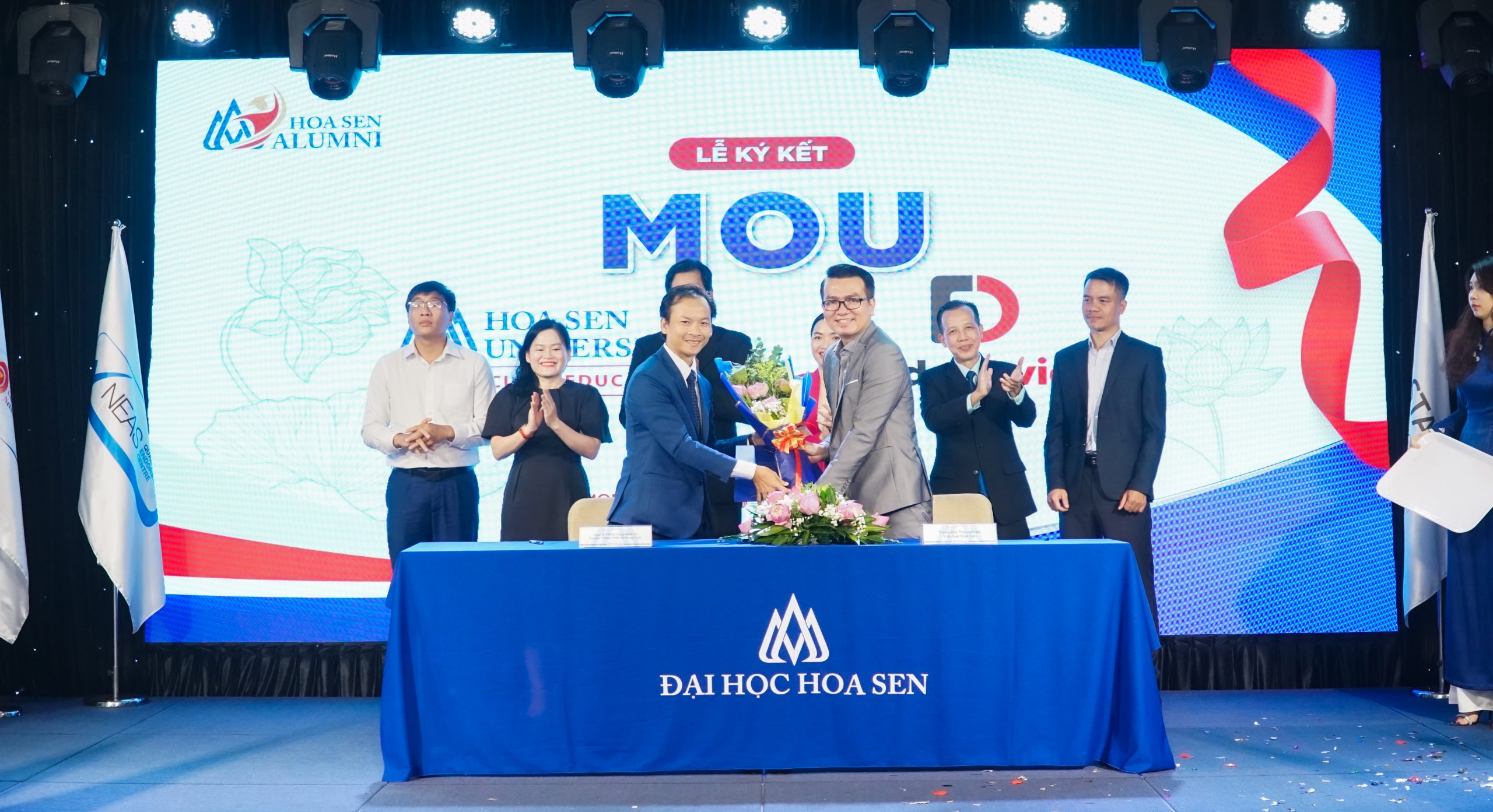 With this cooperation, businesses will create conditions for HSU students to exchange experiences, visit and learn about the business environment, well aware of the needs and challenges of the work of the majors, thereby orienting and choosing the right job for the future. Businesses will also open up many internship and work opportunities for students. At the same time, Hoa Sen University will also provide high-quality human resources for businesses.

With activity plans, MOU signing, Mentoring mentoring program, Hoa Sen University Alumni Network promises to bring many interesting experiences not only to alumni but also to HSU students and faculty.