Hoa Sen University jubilantly held the opening ceremony of the new academic year 2022 – 2023
October 26, 2022, with the excitement of students across the country entering the new school year, Hoa Sen University (HSU) solemnly held the Opening Ceremony and Welcoming New Students in the 2022-2023 school year with the theme "Be yourself – But be your best self" at Military Zone 7 Stadium (Phu Nhuan District, HCMC).
Attending the ceremony were the presence of Assoc. Prof. Dr. Duong Anh Duc – Member, Vice Chairman of Ho Chi Minh City People's Committee, representatives of departments – departments – branches of Ho Chi Minh City, representatives from consular offices in Ho Chi Minh City, enterprises, partners, representatives of the leaders of Nguyen Hoang Education Group and the pedagogy, parents and freshmen of Hoa Sen University.
Assoc. Prof.Dr. Duong Anh Duc – Member, Vice Chairman of Ho Chi Minh City People's Committee speaking at the ceremony
Opportunity to own your future
The Opening Ceremony and Welcoming New Students for the academic year 2022 – 2023 is an event marking a new stage of Hoa Sen talented generations in their 4-year university journey. Speaking at the ceremony, Assoc. Prof. Dr. Duong Anh Duc – Member, Vice Chairman of Ho Chi Minh City People's Committee said: "With the development of technology 4.0, it is extremely necessary to develop education in the direction of internationalization to attract learners in the region and the world and Hoa Sen University is one of the pioneering non-public educational institutions in training high-quality human resources for the development of the city. Although the academic year 2021 – 2022 has many obstacles, the pedagogy and students of Hoa Sen University have made many achievements, , especially in international accreditation, the number of students winning high prizes in competitions. The young people sitting here can be proud that in the next 4 years we will be studying at this prestigious, dynamic and modern school. I send my deep faith to the Hoa Sen students present today because you are the young generations who will build the future of the country."
Assoc. Prof. Dr. Vo Thi Ngoc Thuy – President of Hoa Sen University also reminded the students: "In the past, people used to think that university is a place to prepare students for life, I think that university must be life – where students must be applied learning, close to real life. Besides developing knowledge, students will discover themselves, understand who they are, how their future path is useful to their families and society; are fostered in a sense of responsibility for their own choices, in a manner of kindness, and instilled with love. If college is just a preparatory model for real life, it will be a waste of a university education, a waste of four years of youth."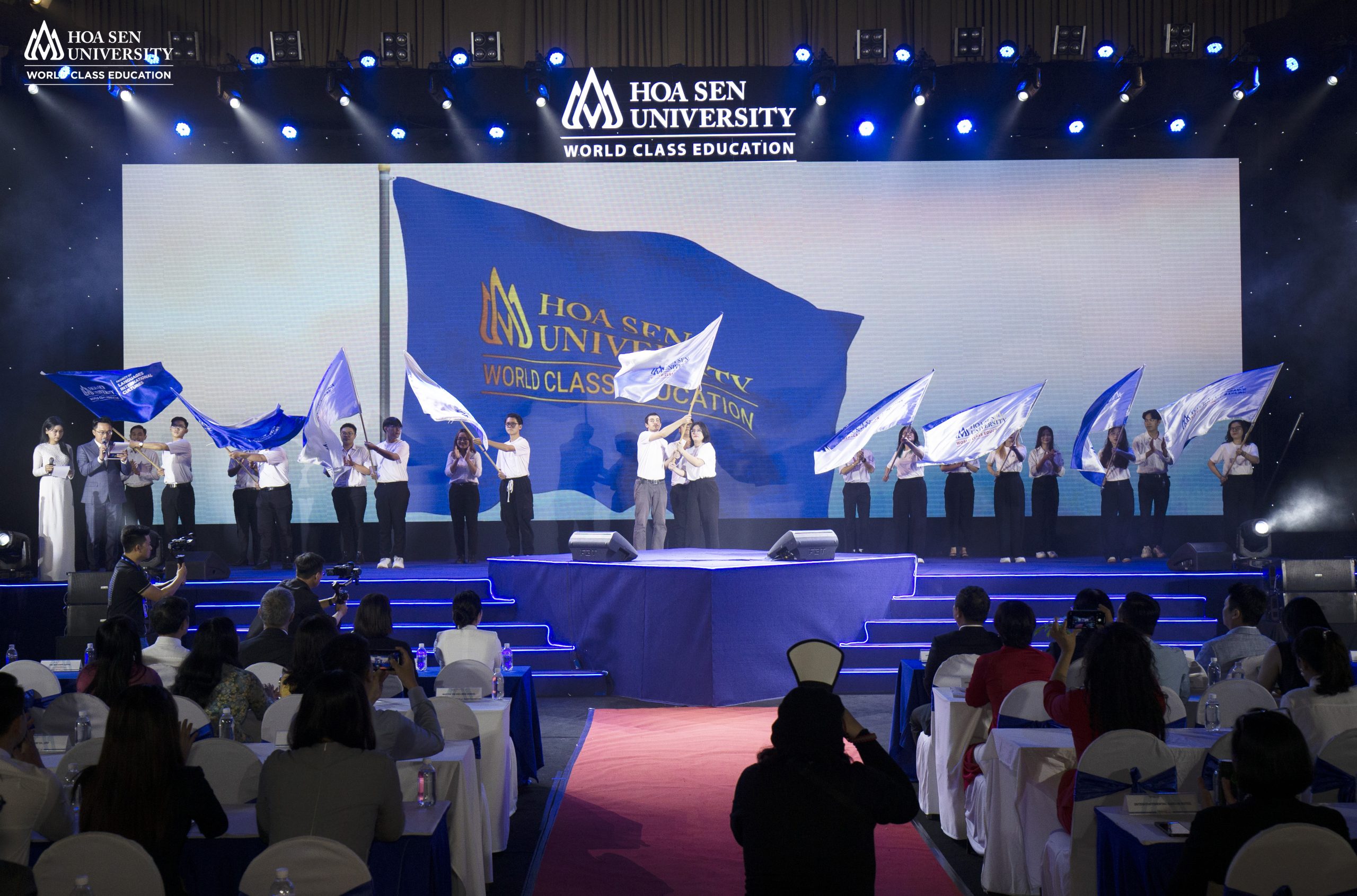 At the ceremony, the traditional ceremony of handing over the flag of final year students to new students was also held, marking the transfer between generations of Hoa Sen students, let the next generation inherit and promote the values and foundations that the previous generations have built, develop themselves and master their own future. The opening ceremony of the school drum and the swearing-in ceremony were also performed in the solemn atmosphere of the ceremony.
Start the journey of "Be your best self"
Finding one's self is a long journey and university is an opportunity to enter that journey, for young people to discover themselves and become the best version of themselves. That is also the theme of the Opening Ceremony "Be yourself, but be your best self".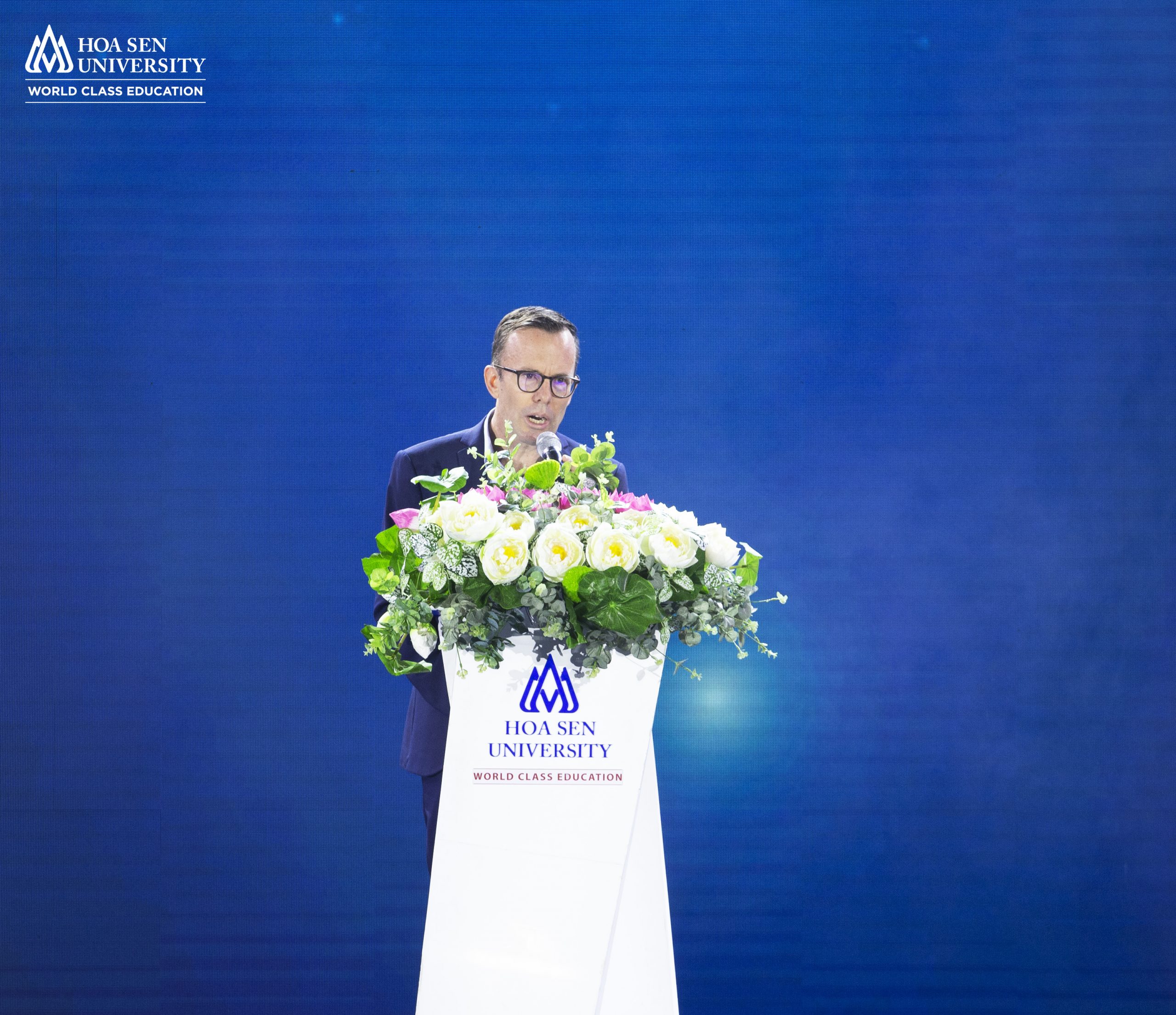 Sharing on this meaningful topic, Mr. Haike Manning – Former New Zealand Ambassador shared: "Before, I never thought I would become a Diplomat. When I first entered the University lecture hall, like the freshmen here, I didn't really know what I wanted to do after graduation. If you haven't decided what you're going to do when you graduate from college – or what your first job will be, don't rush into making a decision – you still have plenty of time! As you grow older, it's easy to get caught up in everything that happens around you. The pace of life is getting faster every day. This is why it's most important to always be yourself, and be your best self. So: Right now, study hard, live happily, and always be yourself."
Among thousands of new students entering in 2022, there are 22 new students receiving scholarships, in which, freshman Nguyen Ngoc Viet Thi is a special case when she and her sister are both students of Hoa Sen University. At the ceremony, Nguyen Ngoc Que Tran, a 3rd year business administration student, handed over the honor wire to her sister Viet Thi – representing all K22 new students. At this emotional moment, freshman Nguyen Ngoc Viet Thi expressed: "Hoa Sen used to be my dream and now, when this dream has come true, Hoa Sen will continue to write new dreams with me and my sister."
Viet Thi did not forget to send a message to student K22 "School is the place where you can WRONG with the lowest probability of risk". I believe that 4 years of university is not only about deadlines, not only specialized knowledge. 4 years of university at Hoa Sen is also an opportunity for us to be WRONG, to be RIGHT, so that we can grow up, shine and be ourselves.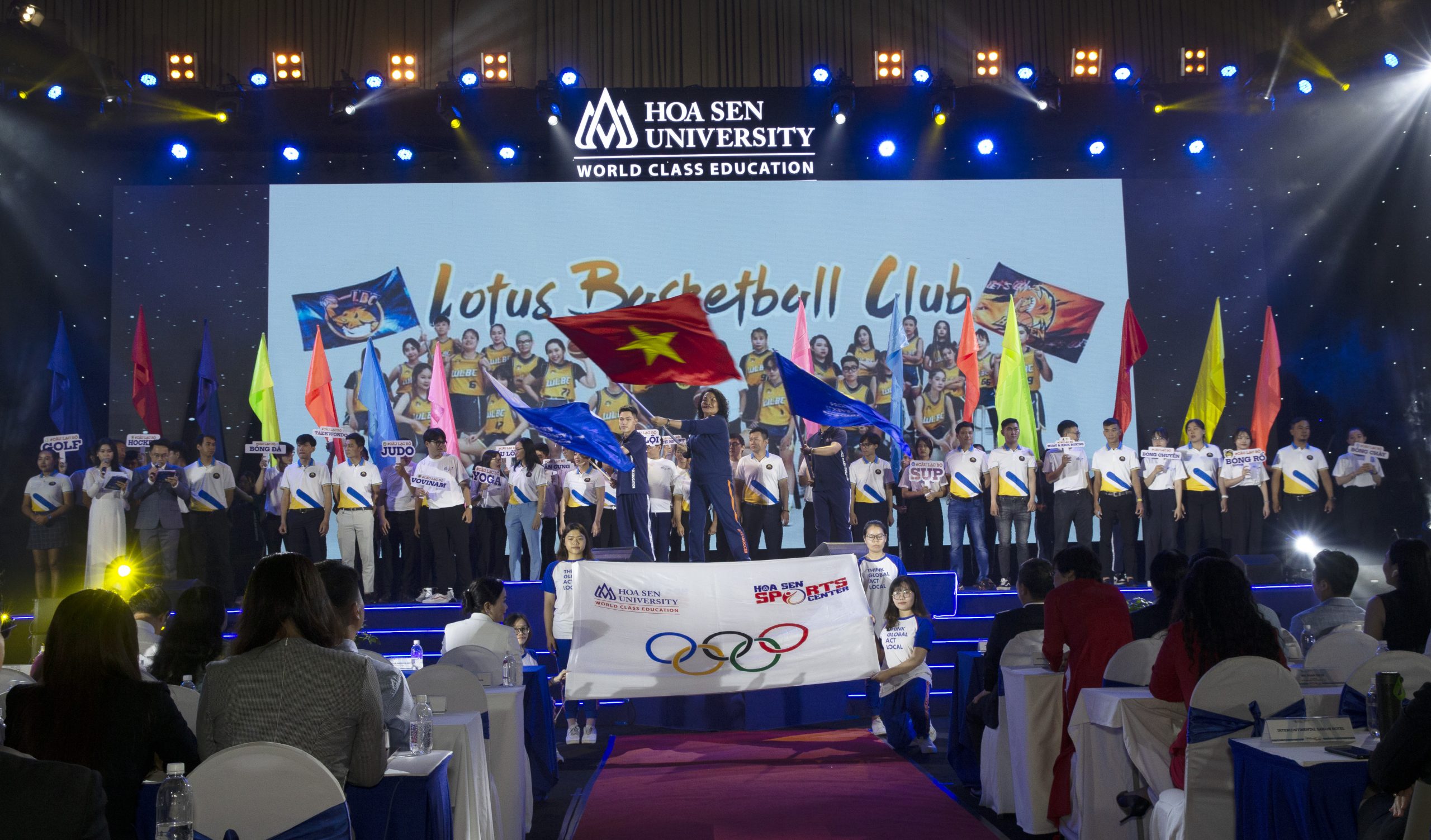 At the opening ceremony, special performances from Hoa Sen's talented artists were also sent to the students. Especially, there are 18 sports clubs of Hoa Sen University with 18 leading coaches in golf, martial arts, dance sport, basketball, football…. were also introduced at the opening ceremony.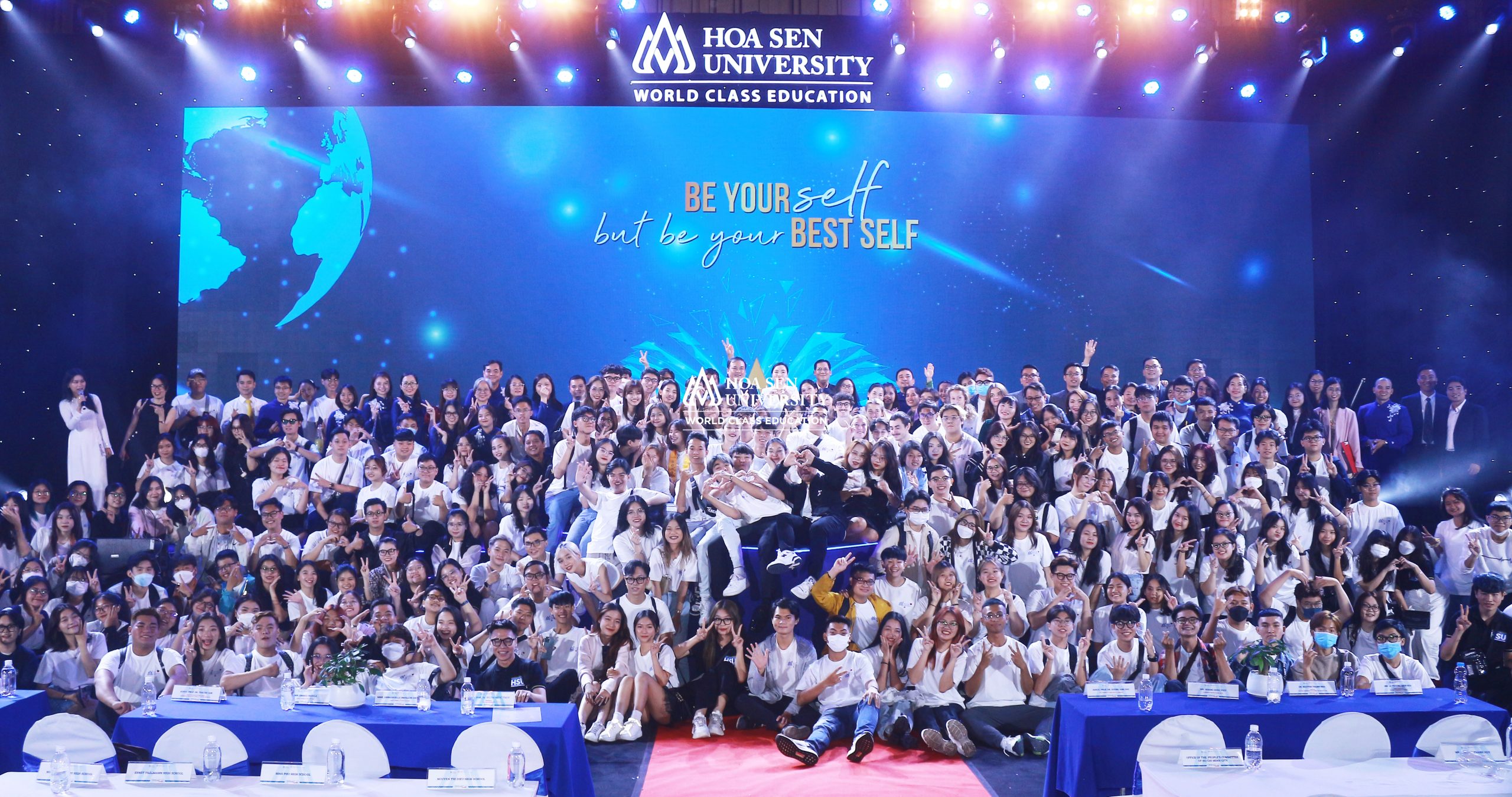 Hopefully, with the enthusiasm of youth, dynamism and creativity of Gen Z, new students will have rich experiences at Hoa Sen University, become the best versions, be the pride of the family, the school and contribute to the common development of the country.