Hoa Sen University awards 43 companion business scholarships to students
On the occasion of the 32nd anniversary of establishment, this morning, August 23, Hoa Sen University organized to award 43 companion business scholarships to HSU students.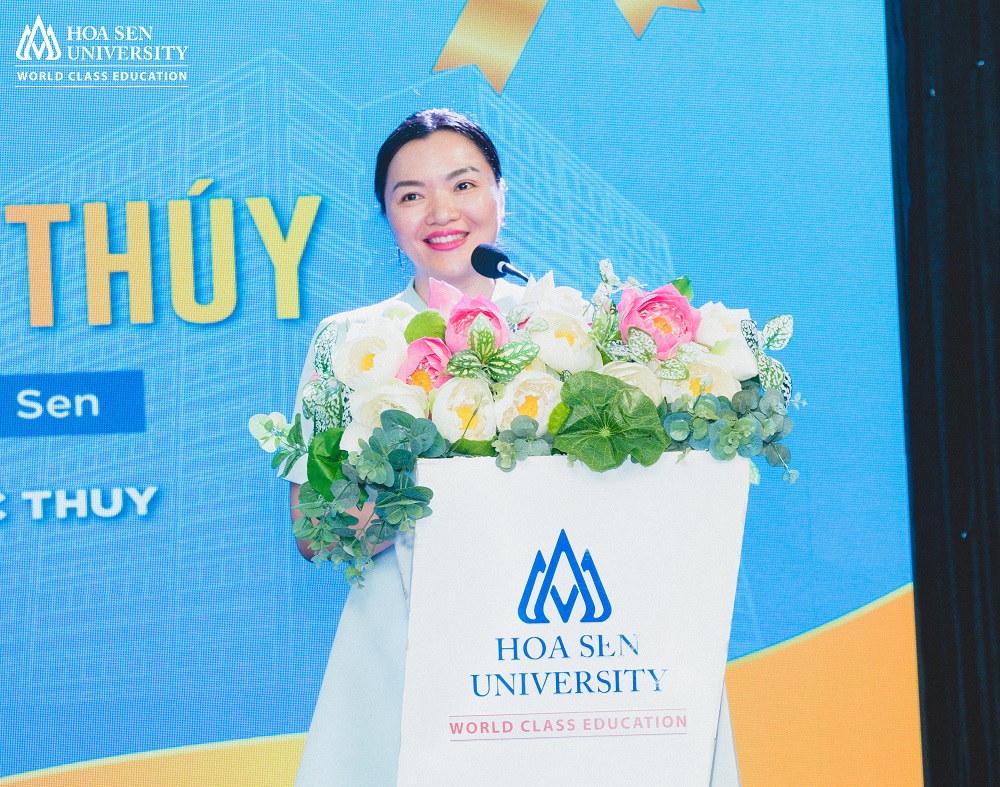 The ceremony was attended by the Board of Directors, lecturers, parents and students of HSU. Especially the presence of representatives of nearly 20 companion enterprises:
1. Ho Chi Minh City Water Sports Federation
2. Ho Chi Minh City Taekwondo Federation
3. Academy Muay Kickboxing Company Limited
4. City Youth Cultural House Archery Club. HCM
5. Gym One Company Limited
6. Legend Cargo Logistics Company
7. Cultural Development and Import Export Joint Stock Company
8. Viva Consulting Services Joint Stock Company
9. KIAI . Education Organization
10. Samsung Innovation Campus Company
11. PAM Cargo International Company
12. An Cuong Wood Joint Stock Company
13. BMF Group Company Limited
14. Viet Australia Auditing Company Limited
15. Professor ARMIN KUHR
16. Thien Viet Technical Co., Ltd
17. Collective of staff and teachers of the Faculty of Finance and Banking
18. Collective of staff and teachers of the Department of Tourism, Restaurant and Hotel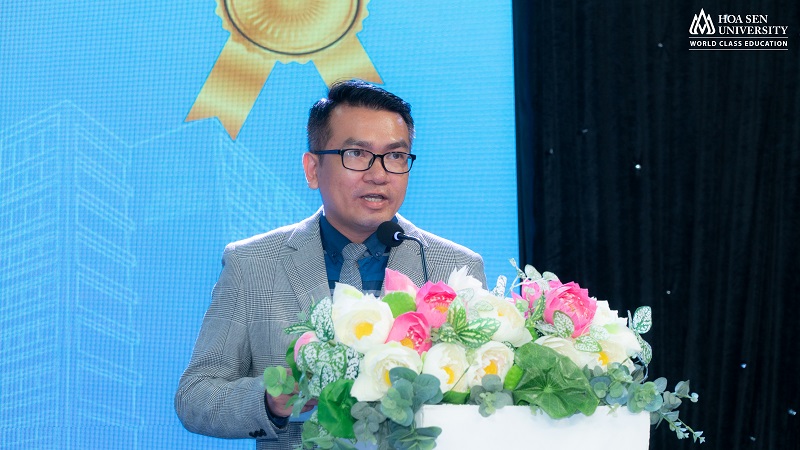 Speaking at the ceremony, Assoc. Prof. Dr. Vo Thi Ngoc Thuy shared: "Over the years, Hoa Sen University has trained many generations of excellent students. Right in the ceremony, the MCs, singers, program organizers are all students and alumni of the school. Hoa Sen also has many generations of students holding high positions at large companies and corporations. We are extremely proud and grateful that in our educational and training journey, we always have the companionship of your businesses."
At the ceremony, 43 scholarships were awarded by businesses and representatives of the University's Board of Directors to students with good academic achievements, winning awards and titles at competitions. In particular, Vo Phu Thinh – New student majoring in Financial Technology received an honorary scholarship from the President worth VND 60,000,000. Despite being somewhat less fortunate physically compared to other students, Phu Thinh still achieved good academic results with a grade point average of 8.9.
Speaking at the ceremony, Phu Thinh shared: "I was born less fortunate compared to my peers. However, the overwhelming support from my family and friends made me realize that I have to make a difference to assert myself that I am not inferior but also superior to others. I feel really lucky and happy to receive the noble scholarship of Hoa Sen University. For me, this is not only a material gift but also a great spiritual comfort to help me overcome all difficulties in life and step forward steadily in the future."
Especially, within the framework of the Companion Business Scholarship Awarding Ceremony for students, Hoa Sen University honored 12 excellent students who completed the program according to FIATA standards (Switzerland). FIATA certificate is issued by the Swiss Logistics Profession Association, a prestigious organization not only in Europe but also globally. At HSU, students will study 8 specialized subjects with FIATA code when they have completed the school's EIC6 English requirement or have an IELTS 5.5 international English certificate.
With FIATA certification, graduates have both a bachelor's degree and a prestigious international certificate, making them a "passport" when interning and working at large corporations, participate in the Vietnam Logistics network and have the opportunity to work at Logistics and freight companies around the world.