Graduation project with bold humanity of students majoring in Interior Design
Not limited to familiar architectural designs, the graduation projects of students majoring in Interior Design, Hoa Sen University (HSU) become more diverse thanks to projects that are bold in humanity and towards the community.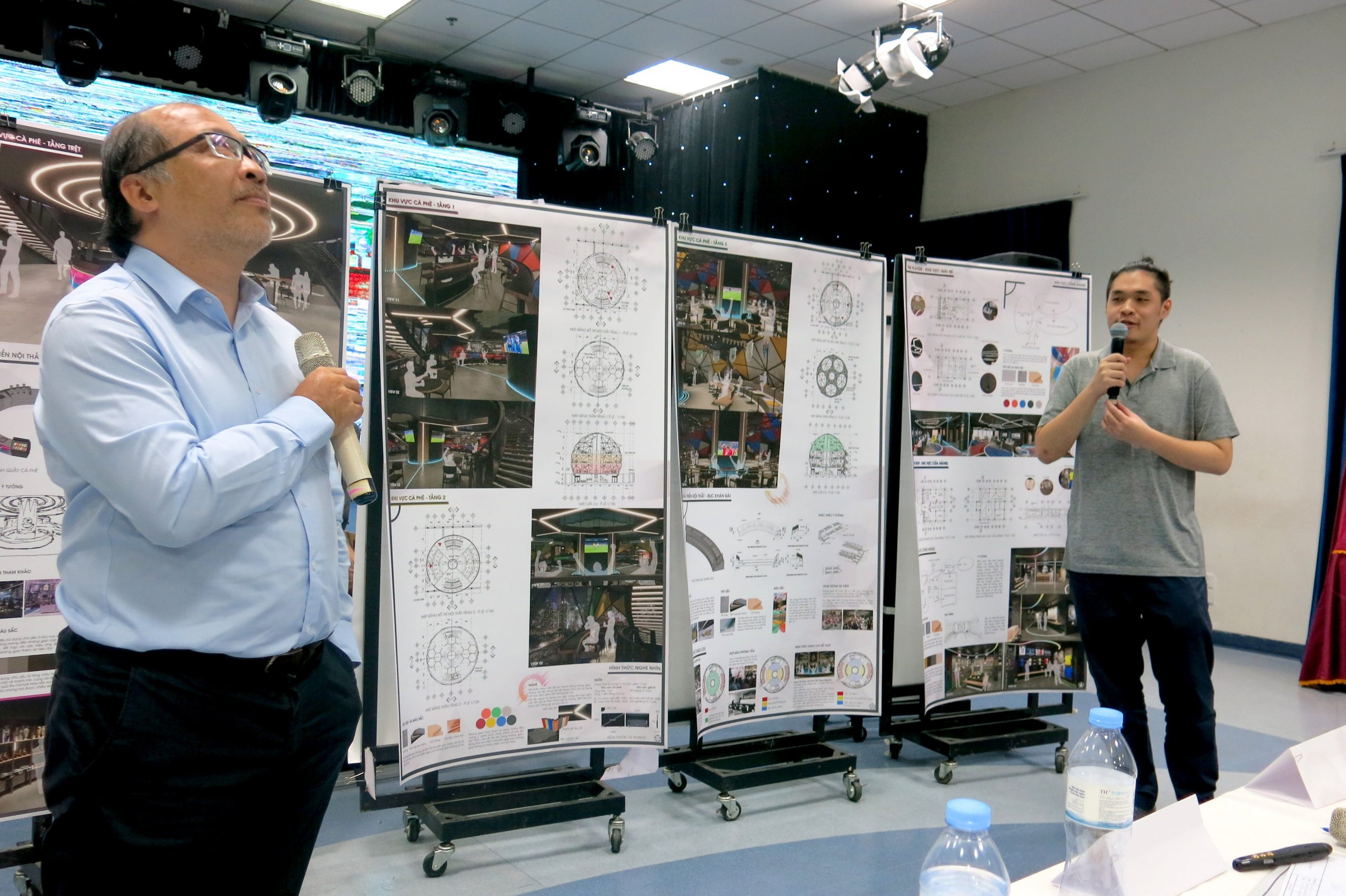 On February 8, 2023, HSU Art & Design Faculty held a presentation for 14 graduation projects of Interior Design students. The topics are divided relatively clearly including: Commercial design block such as "Reunion" restaurant showing traditional Vietnamese family culture, coffee shop 'The Flow', Chinese restaurant "Zhu" Yu Tang", Football exchange coffee "The 12th Player"; and educational design blocks such as schools in Dak Lak village, "Kiddo Kiddo" intellectual entertainment center, pet training center…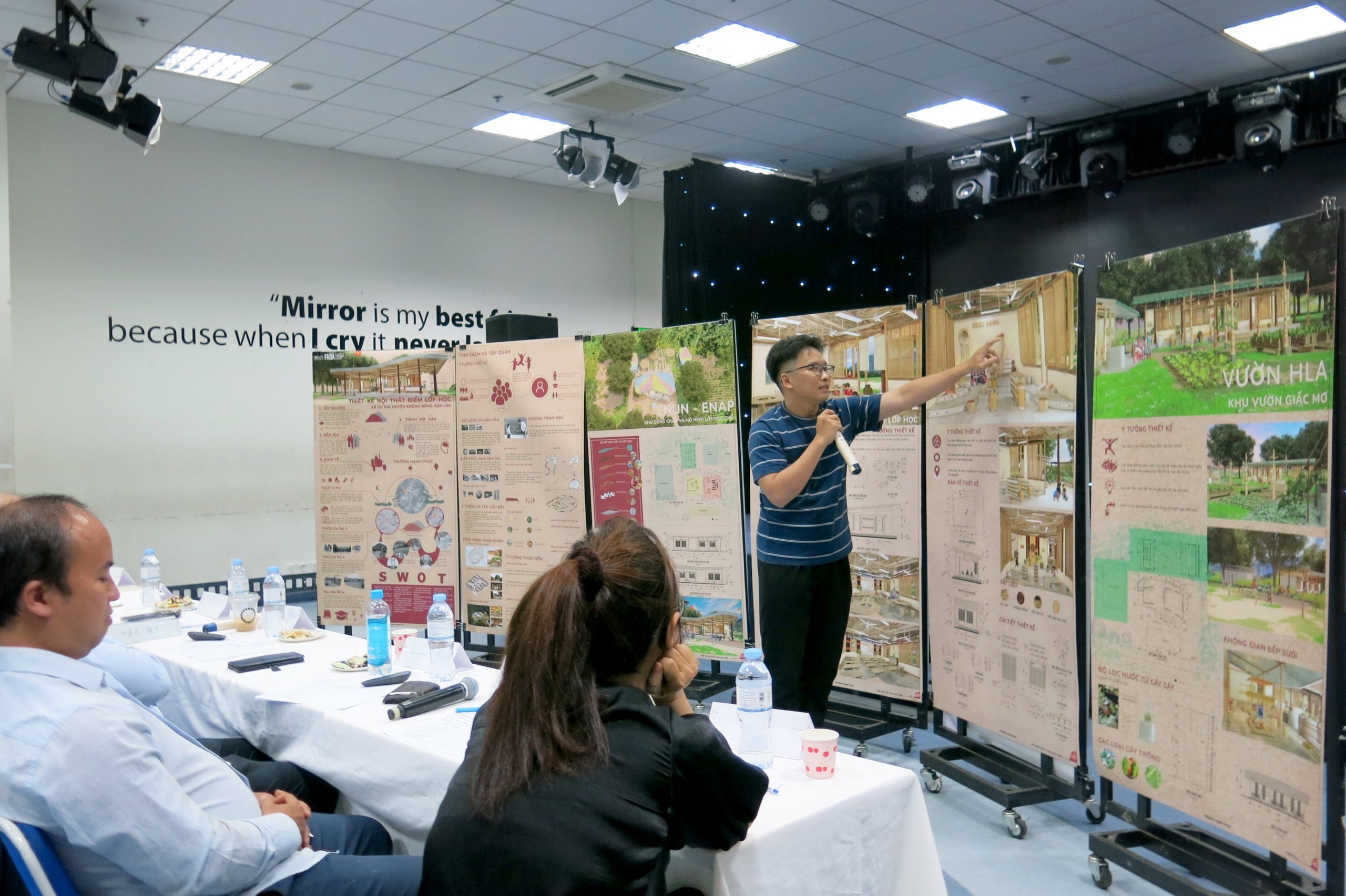 There are 3 topics of interest to the jury. One is the design of Cu Pui Secondary School – Hanh Phuc Village by student Tran Duc Hoang.
The humanity and community service of the project is highly appreciated at the Faculty of Art Design. Duc Hoang was encouraged by Ms. Ha Thi Hoai Thu – instructor to visit the current situation in the village to survey the learning situation of children as well as teachers and staff here in order to be able to make recommendations that are most appropriate to the actual situation, including: Implement learning stations so that children can supplement their cultural knowledge, design a roof system that integrates rainwater storage to save local water resources…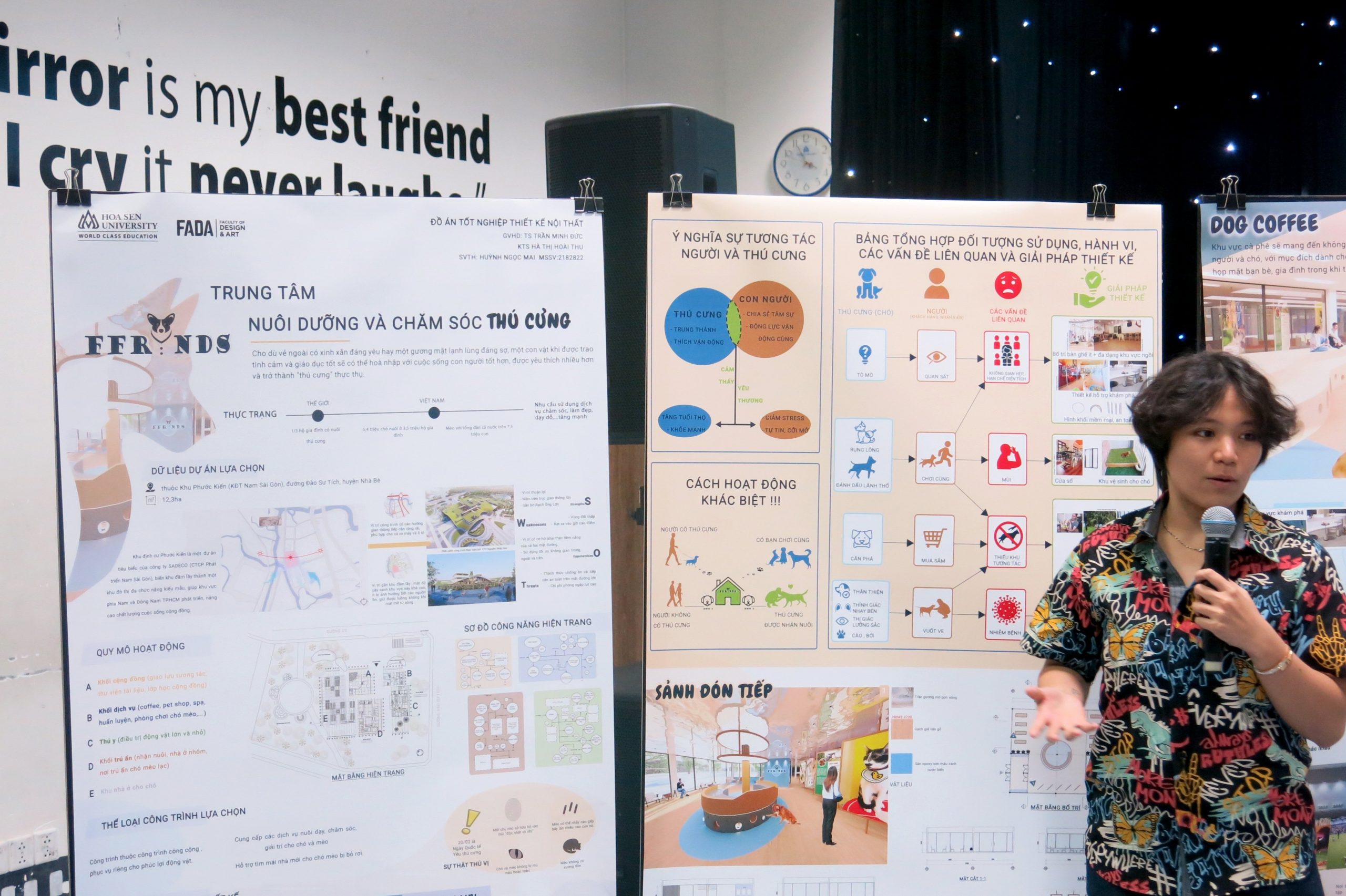 The second is the project of Huynh Ngoc Mai student's pet care and nurturing center project with high practicality, in line with the trend of the times. Ngoc Mai has meticulously researched pet behavior to create a space that meets the needs of dog owners. The author is highly appreciated when he has good interaction, clear feedback with the council, and has made great progress compared to the previous learning process. This clearly proves once again the importance of the Graduation project with the companionship and dedicated guidance of teachers. The process is arduous and difficult, but the reward is the best version of herself on the last day of critique with judges from businesses.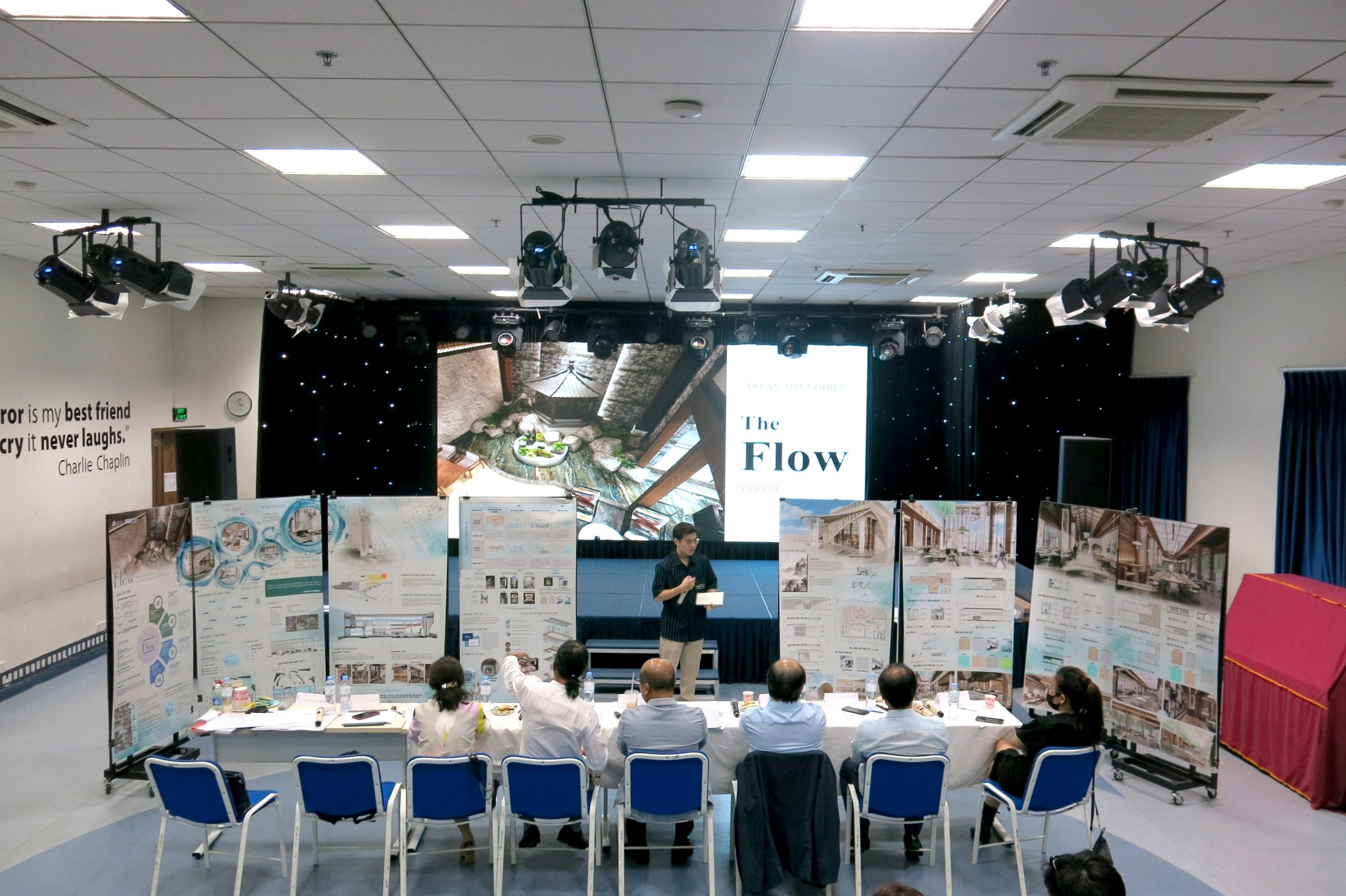 Finally, Truong Tuan Kiet with Interior Architecture Design 'The Flow Coffee'. This is a project that is highly appreciated for its thoroughness and meticulousness in overall including research, technical records and design quality. Tuan Kiet received compliments for his concise presentation, fully answering the jury's questions. The Faculty of Design & Art aims to train students to balance design thinking, drawing presentation skills and the ability to communicate ideas to relevant appraisers.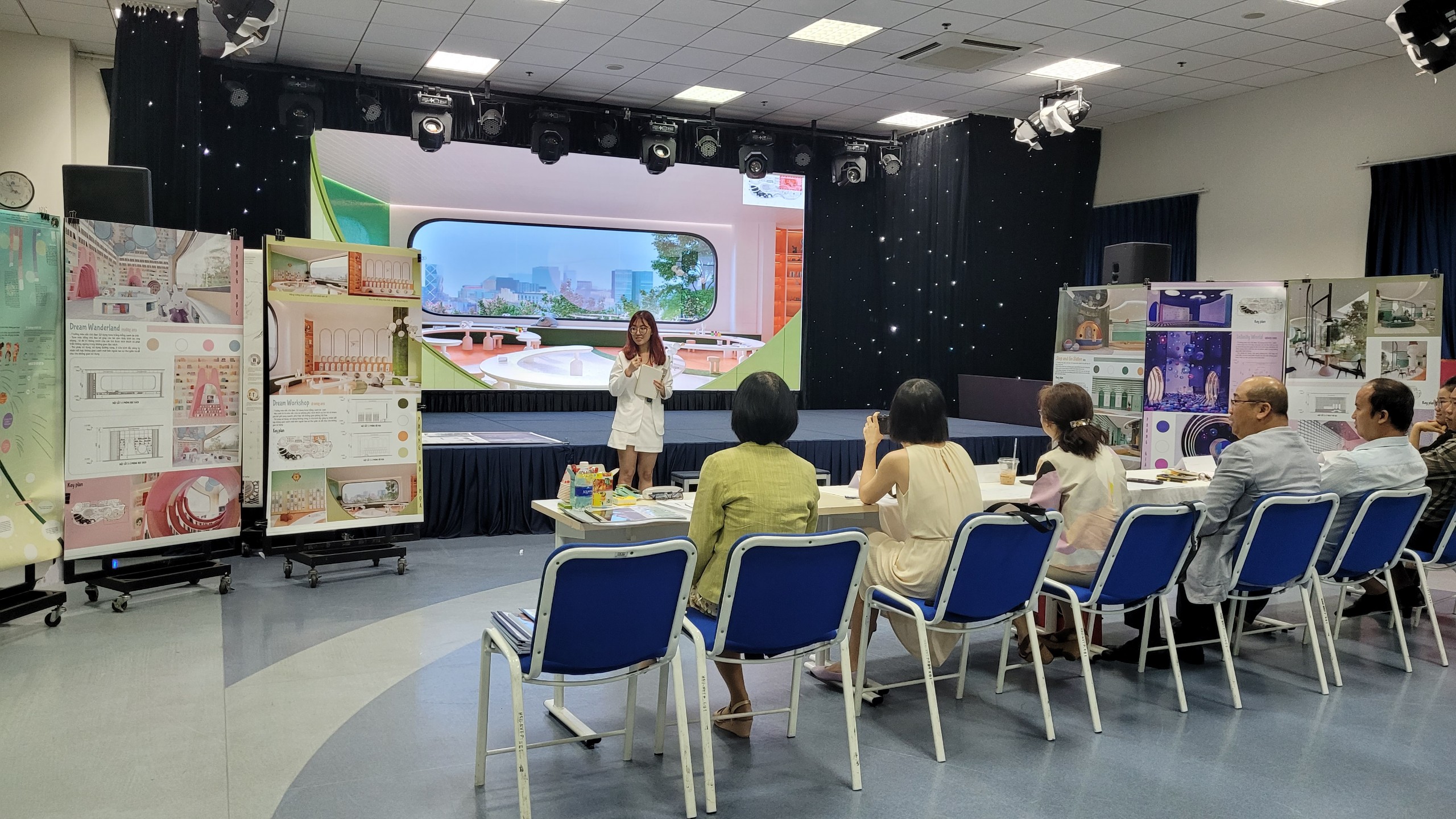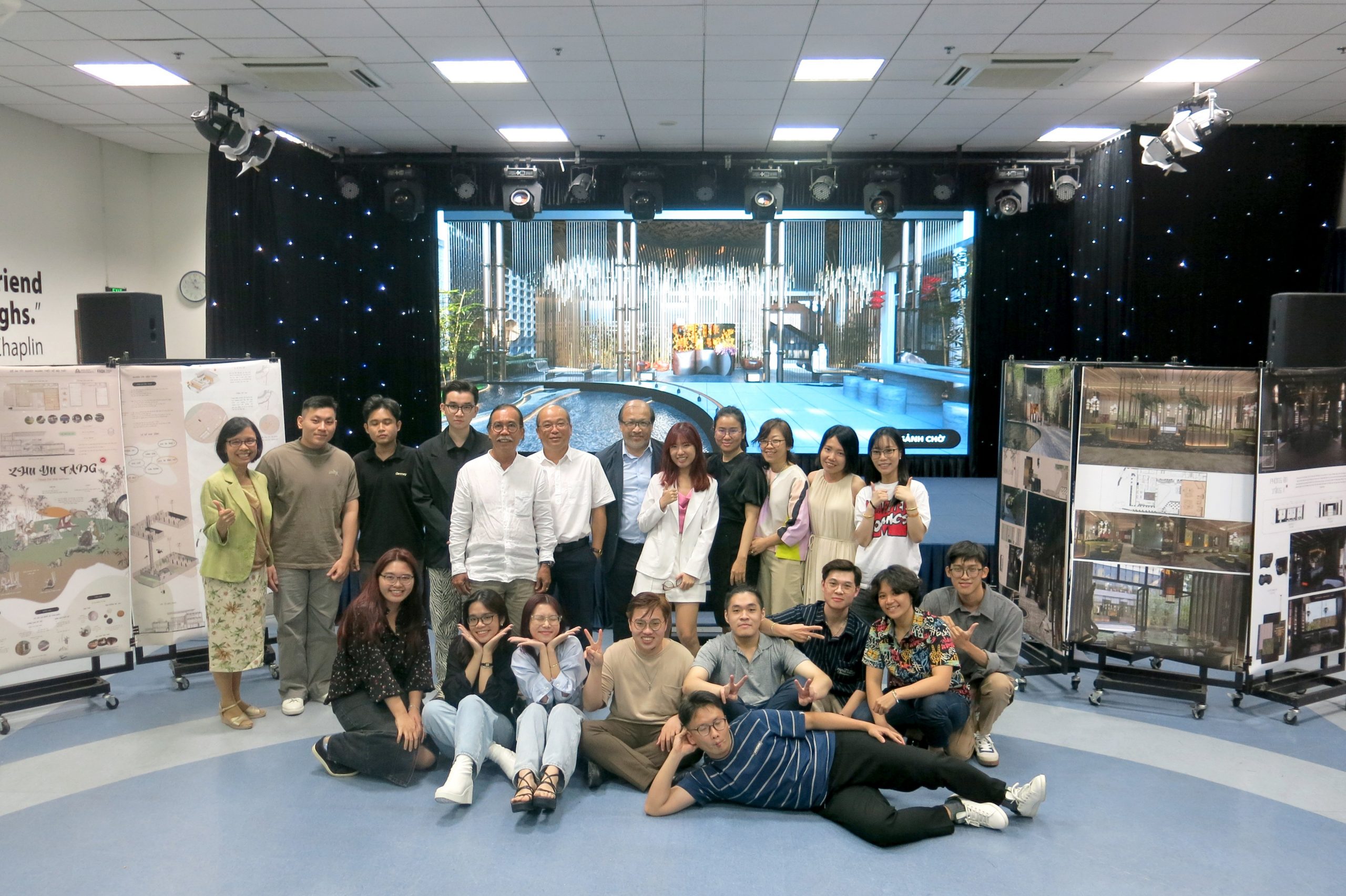 According to the jury, 14 designs are diverse in each specialized content, especially those serving from families, young people, pets-owners, children and parents….Through each product, students demonstrated their strengths in choosing topics and presentation formats to make the best impression, completing presentations and responding to questions from the jury.