De Montfort University (UK) approves cooperation with Hoa Sen University
During the two days of March 27 – 28, a high-level delegation of De Montfort University (DMU – UK) came to Vietnam to conduct an overall assessment of the partner before deciding to approve the cooperation with Hoa Sen University (HSU).
The delegation was led by Mr. Simon Bradbury – Vice Rector and 8 members who are deans of faculties and departments under DMU and independent members from a number of other public universities in the UK, including: University of Bedfordshire, Oxford Brookes University.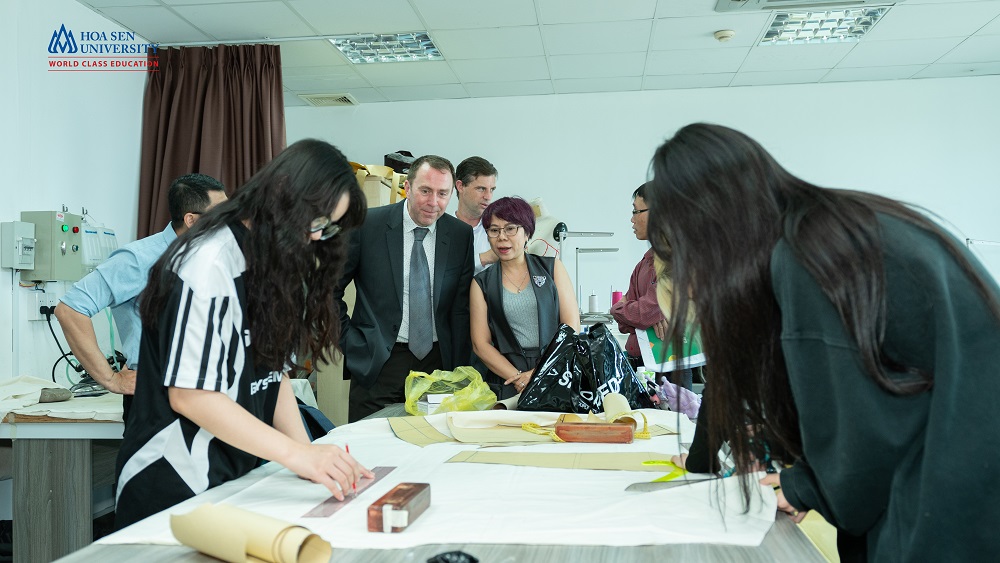 The delegation directly inspected the facilities, libraries, classrooms, practice rooms… at the main Nguyen Van Trang campus, Cao Thang campus and Thanh Thai campus. The delegation also had intensive working sessions with the Board of Directors, heads of faculties, institutes, departments, program directors and existing student groups of HSU.
After two days of active and serious work, the delegation from the UK released a report with positive assessments of all aspects of HSU, from the strategy of developing international training programs, student care services, internship opportunities, business connections and jobs for students to the model of HSU alumni club…The delegation especially acknowledged the student-centered HSU in teaching and learning activities as well as efforts to provide the best experience for students while studying at HSU…
All members of the DMU evaluation team unanimously approved the cooperation between DMU and HSU in the field of joint training for bachelor's and master's degree programs. This is a mandatory review procedure before a UK university can partner with a foreign university.
With this positive assessment result, HSU is ready for a long-term cooperation relationship in training cooperation with DMU under the model of "studying abroad". Accordingly, HSU students have the opportunity to study DMU's original training programs entirely in English at HSU. From there, students will own a globally valuable degree from a 153-year-old public university from the UK right in Vietnam at an extremely reasonable cost.
From September 2023, HSU will officially open the Foundation program for HSU students to continue their specialized programs in the following years. The disciplines that will be implemented in the first phase of the cooperation program include: Bachelor of International Business, Bachelor of Marketing, Bachelor of Accounting and Master of English Language Studies. Many new training programs will continue to be implemented in the near future.