PROFESSIONAL DEVELOPMENT WORKSHOP # 8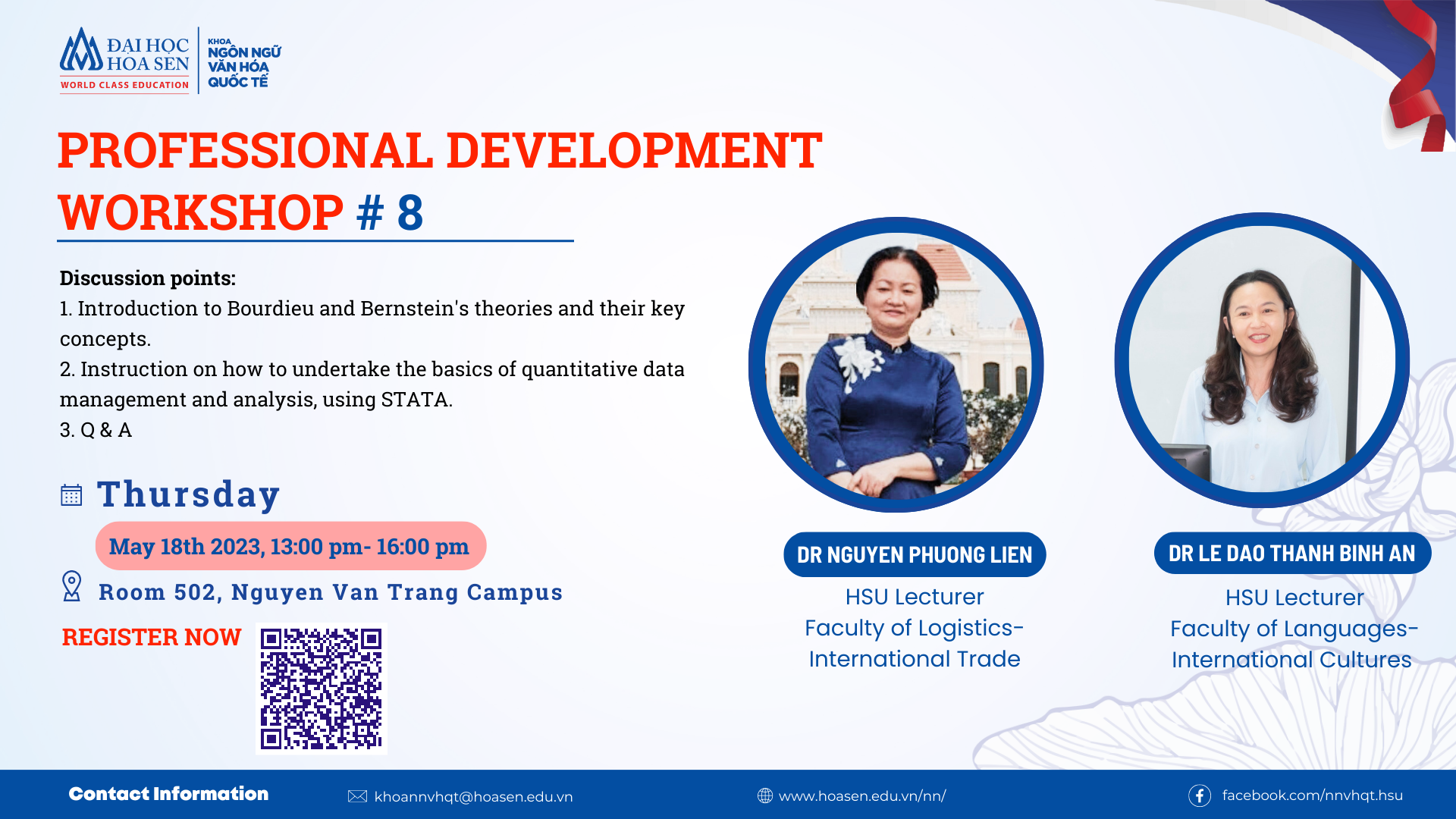 The professional devevlopment workshop, organized by the Faculty of International Languages ​​and Cultures, aims at improving the scientific research skills and creating a forum for academic exchange among lecturers. The #8 workshop are held at 1:00 p.m. on Thursday, May 18, 2023.
At Workshop # 8, Dr Lê Đào Thanh Bình An will be back to introduce the basics of the two theories and their key concepts developed by Pierre Bourdieu and Basil Bernstein, two of the most influential sociologists of the twentieth century. The introduction will include some examples and suggestions on how these can apply in educational research. Hopefully, the session will be a valuable experience for all participants.
Dr Nguyễn Phương Liên, Faculty of Logistics- International Trade, HSU will continue the session with the instruction on how to undertake the basics of quantitative data management and analysis, using STATA.
Workshop # 8 also closes the research training sessions to kick off the practice series, starting with Workshop # 9 where participants will share research ideas or topics and form research teams to start working towards these topics.
All interested colleagues, lecturers and students are cordially invited to join us for the professional activity.
——————————–
INFORMATION ABOUT PROFESSIONAL DEVELOPMENT #8
⌛ Date & Time: 1:00 PM – 4:00 PM, May 18th, 2023 (Thursday)
🏠 Venue: Room 502, Nguyen Van Trang Campus, Hoa Sen University
📌 Registration link: https://forms.gle/Qw7DAdexSfg76w8X9