[WORKSHOP and MOU SIGNING] "Financial Technology (FINTECH) – The dominant discipline of Gen-Z"
On August 28, Hoa Sen University (HSU) held a Talkshow with the theme "Fintech: Gen-Z Industry" with the desire to bring a more multi-dimensional and clearer view to interested students in the Financial Technology industry.
At the talk show with the theme "Fintech: Gen-Z Industry", a large number of students heard from the guest speakers multi-dimensional sharing about the Financial Technology industry – an industry that is not too new but still has unlimited growth potential.
The event attracted more than 150 students from many universities besides Hoa Sen University such as the University of Economics and Law, the University of Greenwich, and high school students. Thanks to the presence of guest speakers in the field of Fintech and Blockchain such as Mr. Kevin Dang – CEO of Horizon Land Metaverse Company; Mr. Nguyen Quang Vinh – Business Development Director of MediaDonuts and Mr. Steven Cao – Growth Director of GaFin Company as well as representatives of Hoa Sen University such as Dr. Phung Thai Minh Trang – Dean of Faculty of Finance & Banking; MSc. Nghiem Tan Phong – Program Director of the Finance & Banking Faculty, contributed to the success of the last talk show.
At the talk show, the students answered many questions about Fintech topics such as the popularity of applying technology to games and virtual worlds in Vietnam and internationally; the practicality of bringing financial technology to the blockchain, and also NFT or Crypto – a form of virtual currency. In addition, the special thing is that the students participating in the workshop come from a variety of disciplines such as Fashion Design, Marketing, Logistics, etc., and your questions are also closely related to the talk show topic. From there, we have a recognition of the popularity of Fintech in life and society.
Answering questions about Gen-Z's advantages and relationship with Fintech, Mr. Kevin Dang shared: "Gen-Z is currently the fastest and most accessible object of technology, so almost all companies All tech companies are targeting your generation because it's much easier to train and use resources in this generation than in the previous generation, Gen Y."
Mr. Nguyen Quang Vinh – a Representative of the social network Twitter added: "An interesting thing is that when Gen-Z friends want to engage in a Fintech project, they will have many ways to declare different customer files. Gen-Z customers because insights are already flowing through your veins while Gen-Y will take a long time to harness customer insights – something that is very difficult to exploit."
When talking about the inadequacies related to legal issues in Fintech in general and NFT – Crypto in particular, Mr. Steven Cao commented: "Even though the State has not yet licensed the NFT directly, there are still agreements The blockchain conference has been licensed by the Departments, Ministries of the State to operate as usual." In addition, he added: "No matter what major you graduate from, you need to bring your enthusiasm and reputation with you, the rest we can learn more and training professionally."
Faced with the potential that Fintech brings, many young people expressed concerns such as: What specific potential do international investors see in Vietnam in the Fintech field that they are investing in; The difficulties that startups may face start up related to financial technology.
Answering the question of whether it is necessary to learn Fintech and be good at coding, Mr. Kevin Dang affirmed: "Fintech is a combination of Fin – Finance, and Tech – Technology, then Finance is in the front. Using Tech here is using Technology to make it easier to manage. So you don't have to worry that you need to be good at coding to study this field."
In addition, also in this talk show, Dr. Phung Thai Minh Trang – Dean of the Faculty of Finance and Banking on behalf of Hoa Sen University signed an MoU cooperation document with the representative of Blockchain Company Beowulf – General Director Mr. William Henry Nguyen. Beowulf Quickcom was also the media supporter for the event when it applied live stream technology to broadcast live talk shows on the Facebook page of the Faculty of Finance and Banking. Based on this signed cooperation, the school, and its partners are looking forward to the upcoming projects of the Faculty.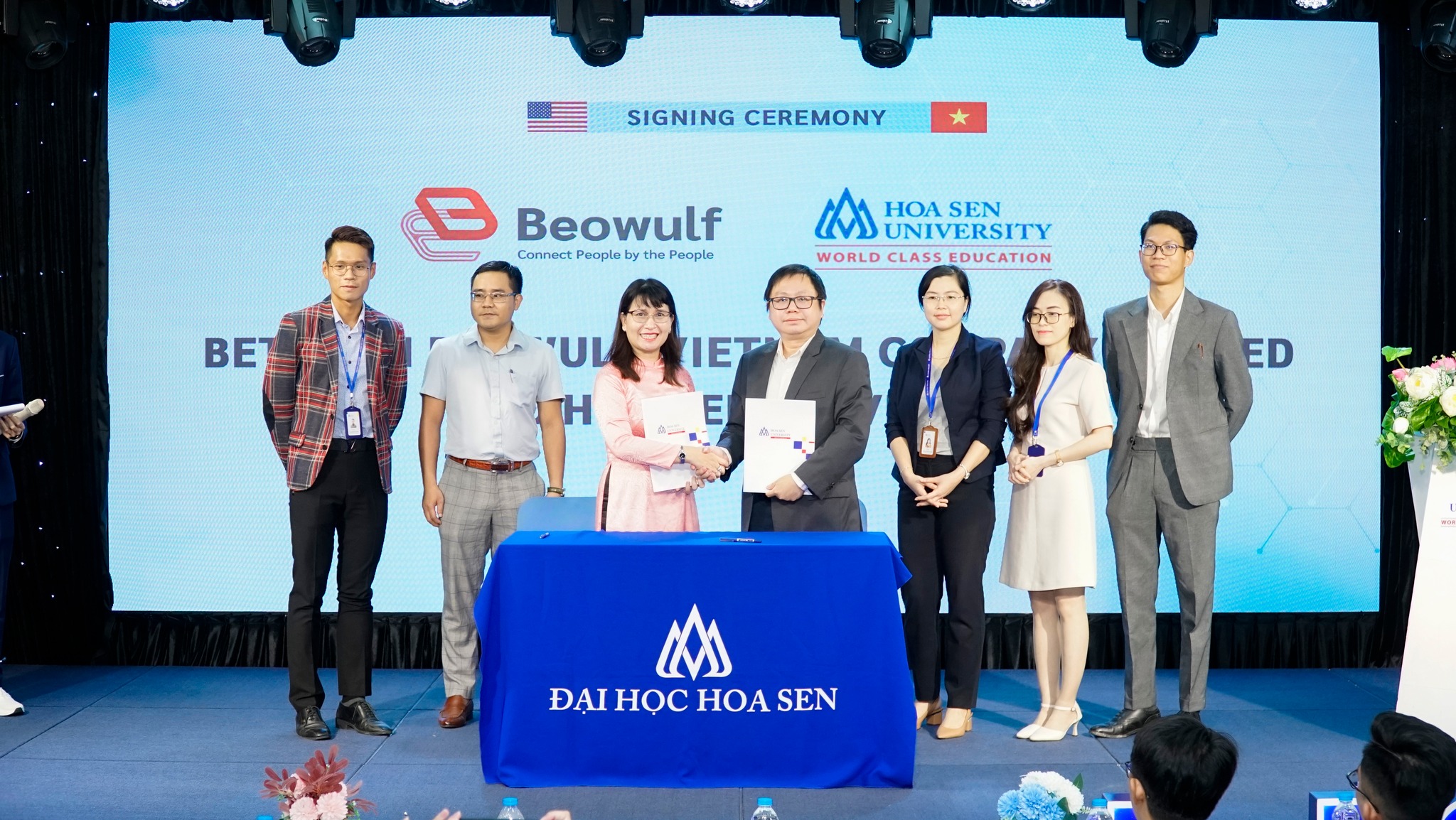 Immediately following the signing with Beowulf was also the signing with Techfarm Company with the representative of the business side, Mr. Kevin Dang. To open up for this cooperation, Techfarm company sponsored the Faculty with gifts for new Fintech students 1 NFT each so that you can start your collection.
---
Some newspapers reported on the event:
Life Financial Newspaper: https://taichinhcuocsong.vn/gen-z-va-nhung-uu-the-khi-theo-hoc-nganh-cong-nghe-tai-chinh/
Marketing World Newspaper: https://thegioitiepthi.danviet.vn/sinh-vien-dai-hoc-hoa-sen-tim-hieu-nganh-cong-nghe-tai-chinh-20220830142920506.htm
---
Website of Hoa Sen University: https://www.hoasen.edu.vn/vi
Website of Faculty of Financial & Banking: https://tcnh.hoasen.edu.vn/
Fanpage of Financial & Banking Faculty: https://www.facebook.com/khoataichinhnganhangdhhs
YouTube of Financial & Banking Faculty: https://www.youtube.com/channel/UC8CAifZiYdXIpebrk3vv-lA
Instagram of Financial & Banking Faculty: @khoatcnhdhhs
TikTok of Financial & Banking Faculty: @khoatcnh