COME AND JOIN THE ADMISSION AND CAREER COUNSELING DAY BY TUOI TRE NEWSPAPER
Do you guys have any plans this Sunday? Let's go to the Admissions and Career Counseling Day by Tuoi Tre newspaper!
In order to provide the latest information for students about the high school graduation exam and admission to universities and colleges in 2023, Tuoi Tre newspaper and the Department of Higher Education (MOET), General Department of Vocational Education (MOLISA), and other units together organize the Admission and Career Counseling Day in 2023.
Content consultation with the latest information about the high school exam in 2023, how to take the exam, how to take multiple-choice exams, the selection of admissions methods, and advice on choosing a major, choosing a school…
In particular, the event was attended by nearly 100 universities, colleges, and educational organizations. Hoa Sen University will have 3 booths present at the festival. Here, candidates and parents will have the opportunity to meet directly with representatives and experts of the school to answer all questions about training programs, career opportunities as well as student support policies. Witnessing professional skill performances helps you to re-evaluate your abilities and suitability. In addition, candidates will also have access to HSU's international cooperation and study abroad programs.
See you at the festival!
Time: 7 AM – 4 PM, Sunday, February 26, 2023.
Location: Booth 106-107-108, Ho Chi Minh City University of Technology – Vietnam National University Ho Chi Minh City (268 Ly Thuong Kiet, Ward 14, District 10, HCMC)
---
On Sunday, February 26, a large number of high school students were present at Hoa Sen University's booth to learn about the school and its majors. Many fun activities and experiences are also taking place such as bartender performances, lucky wheel, magic show, random dances…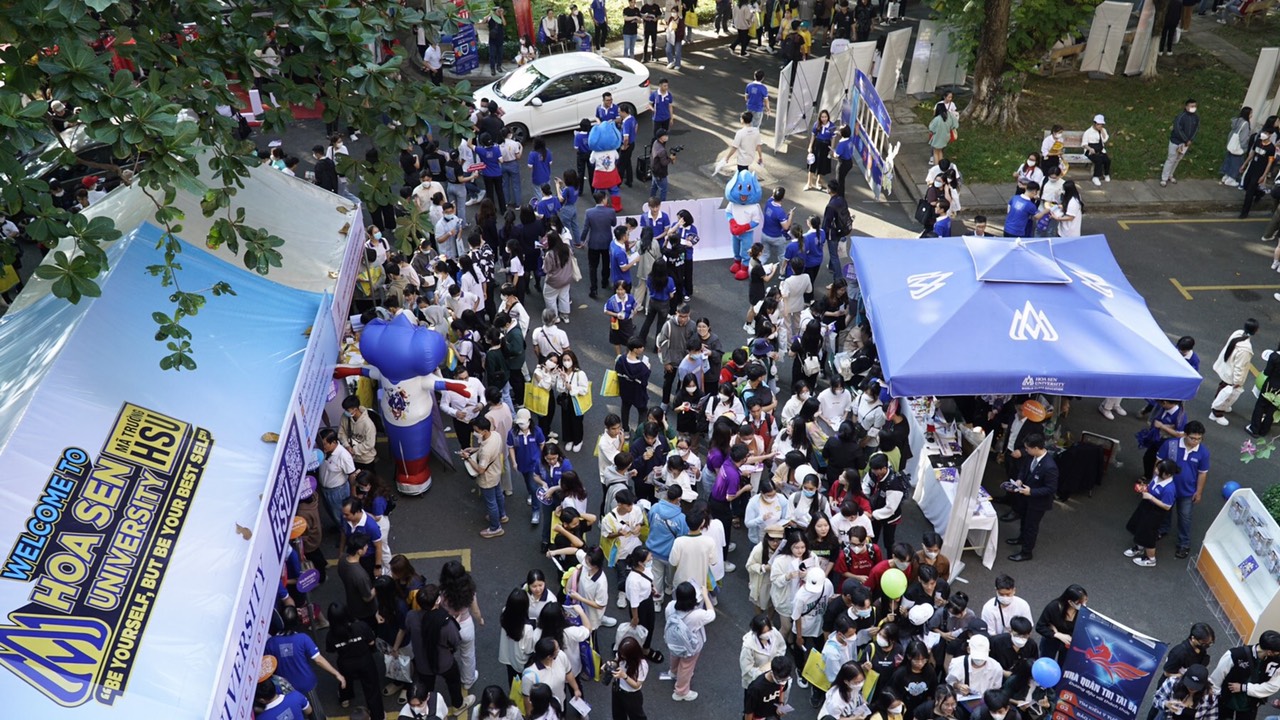 Along with impressive activities and experiences, the candidates also shared with the teachers and students of HSU orientations in choosing a career that best suits them. In particular, new students will receive special privileges at the booths.
Above are some pictures of activities at Hoa Sen University's booth during Admissions and Career Counseling Day 2023. Wish you all the best in your exams and find your desired major!
---
Website of Hoa Sen University: https://www.hoasen.edu.vn/vi
Website of the Finance – Banking Faculty: https://tcnh.hoasen.edu.vn/
Fanpage of the Finance – Banking Faculty: https://www.facebook.com/khoataichinhnganhangdhhs
YouTube channel of the Finance – Banking Faculty: https://www.youtube.com/@khoatcnhdhhs
Instagram of the Finance – Banking Faculty: @khoatcnhdhhs
TikTok of the Finance – Banking Faculty: @khoatcnh