[WORKSHOP] "Fintech & Blockchain: Practical Applications – Student Advantage"
"Blockchain", and "Fintech" are very prominent topics in socio-economic life in general and in the banking and financial sector in particular. There are many large companies and corporations that are willing to spend heavily on research and development in these two areas so as not to be "lagged" in the digital transformation race in the 4.0 era.
In 2021, many companies have also successfully raised capital with great value such as MoMo with more than 100 million USD in March 2021, VNLife with more than 250 million USD in September 2021. The Kyber Network technology alone has received 52 million USD from more than 21,000 large and small investors in more than 100 countries in the fundraising campaign.
That's tempting, but for Gen Z students – the future generation of leaders and successors, who have not had the opportunity to "rub" much in this field, the question is:
❓ Why is Fintech & Blockchain becoming so "hot"?
❓ Application of Fintech & Blockchain in practice?
❓ What are the opportunities for students in these two fields?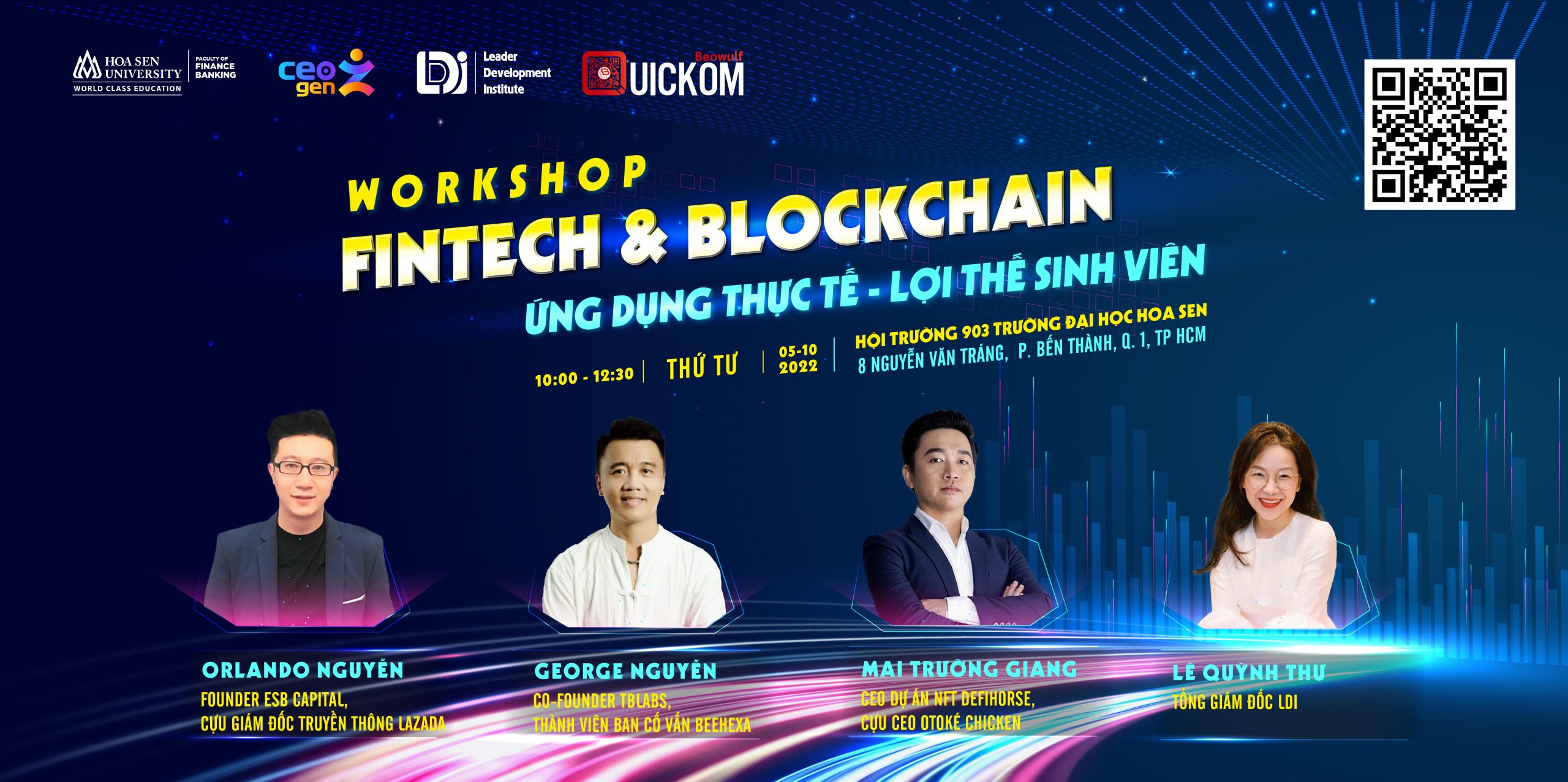 Understanding that, the Faculty of Finance and Banking of Hoa Sen University combined with the LDI Institute of Leadership Development to organize the workshop FINTECH & BLOCKCHAIN: PRACTICAL APPLICATION – STUDENT OFFER exclusively for Seners, Especially if you are planning to start a business in the field of technology. By attending the workshop, you will:
💡 Disseminate knowledge and latest information about Fintech & Blockchain
💡 Analyze students' potential and advantages when participating in these two fields.
💡 Have the opportunity to practice at large companies/institutions in the field of Fintech & Blockchain
💡 Exchange and connect with industry experts
💡 Receive scholarship up to 2️⃣0️⃣% of CEO GEN Z program
💡 And many other attractive gifts
And yet, this workshop gathers guests who are all extremely famous in the world:
🔥 Mr. Orlando Nguyen – Founder of ESB Capital, former Lazada Communications Director
🔥 Mr. George Nguyen – Co-founder at TBLabs, member of the Beehexa advisory board
🔥 Mr. Mai Truong Giang – CEO of NFT DeFiHorse project, former CEO of Otoké Chicken
🔥 Ms. Le Quynh Thu – CEO of LDI – Leadership Development Institute and Apex Multimedia
You get to network with famous speakers and expand career opportunities. What are you waiting for Hurry up and register for the workshop with your friends!
PROGRAM INFORMATION
⏰ Time: 10:00 – 12:30 on Wednesday, October 5, 2022.
📍 Venue: Hall 903, Hoa Sen University, Nguyen Van Trang campus
👉 Scan the QR code or register at: https://forms.gle/ezrixx3zrLV8VjBn8
---
Some pictures from the workshop: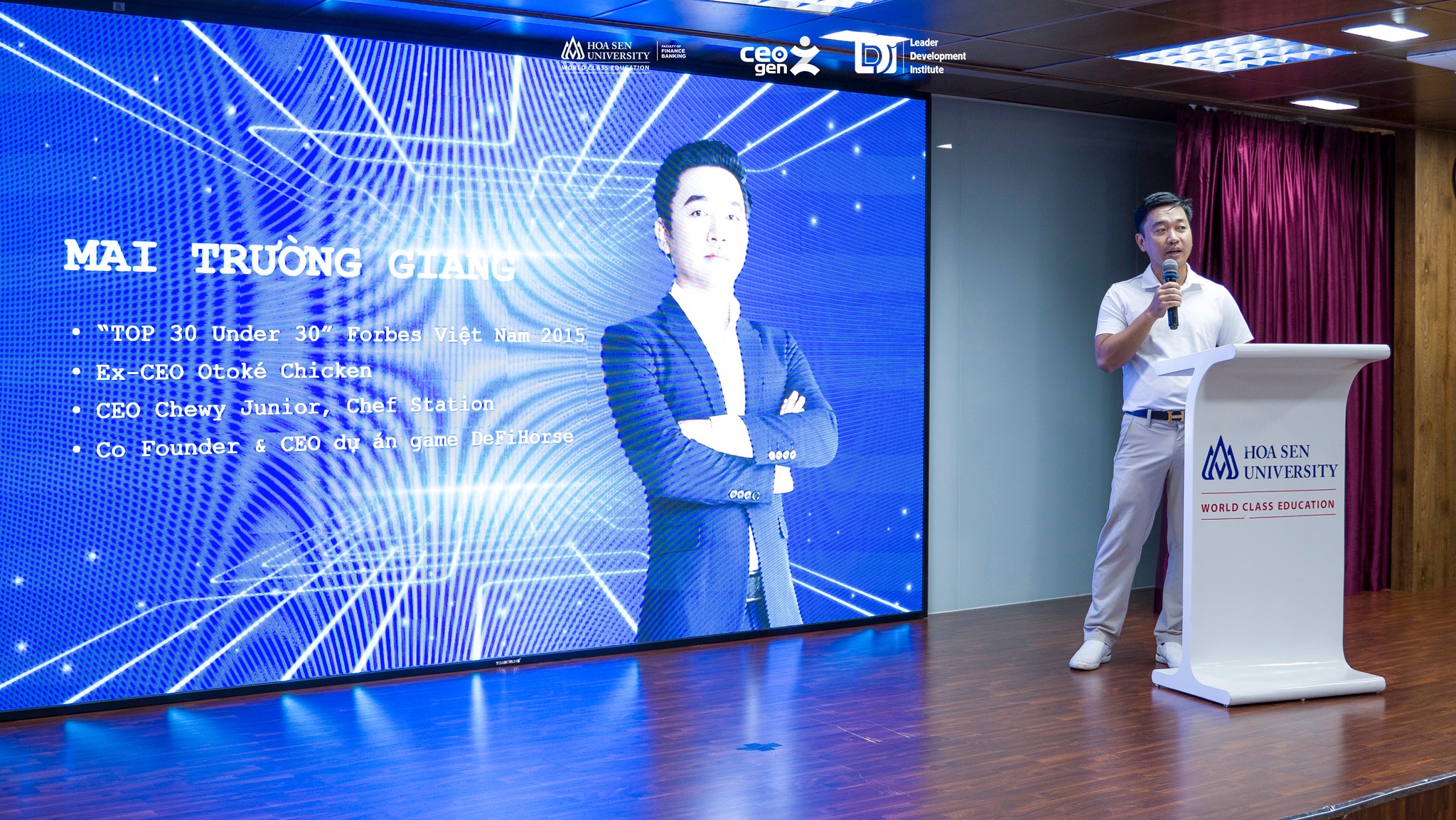 The combination of two guest speakers, Mr. Mai Truong Giang and Mr. George Nguyen, is to bring new but realistic perspectives to the students.
In addition, speaker Le Quynh Thu also gave a close and practical presentation as well as bringing a lot of scholarships from the CEO GEN Z program up to 100% to give to students with the best questions.
Most especially, the enthusiastic participation and enthusiasm when asking questions from the new "Ut Sen" freshmen of Course 22 are really the highlights of this workshop. Even though it's only the first year, the questions you asked for the program also won praise from the speakers.
---
Companion unit:
💥 LDI – Leadership Development Institute
🏢 9 Nguyen Gia Thieu, Ward 6, District 3, HCMC
0981.821.728
info@ldi.edu.vn
💥 Support for media and Live stream: Beowulf Blockchain Company
---
Website of Hoa Sen University: https://www.hoasen.edu.vn/vi
Website of the Faculty of Financial – Banking: https://tcnh.hoasen.edu.vn/
Fanpage of the Faculty of Financial – Banking: https://www.facebook.com/khoataichinhnganhangdhhs
Faculty's YouTube channel: https://www.youtube.com/channel/UC8CAifZiYdXIpebrk3vv-lA
Instagram of the Faculty of Financial – Banking: @khoatcnhdhhs
TikTok Faculty of Financial – Banking: @khoatcnh