INSTITUTION CODE:
MAJOR CODE: 7810202
ADMISSION COMBINATION:
A00, A01, D01/D03, D09
PROGRAM INTRODUCTION
Creativity – raising cuisine
The main goal of Restaurant Management Program is to train a skilled and qualified workforce with creative thinking, professional attitude, be able to adapt to the real working environment, and to have the capability of self-learning and passion of serving people in the food and beverage service industry and related fields.
Program highlights
Met the outside assessment standards of AUN-QA (ASEAN University Network – Quality Assurance)
The training program is built on the inheriting the long-standing brand of restaurant management program and updating to international trends at Hoa Sen University
The practice sessions are conducted in 5-star standard of full-equipped kitchen, restaurant, and bar counter; and are enhanced learners' professional skills through field trips and industry internships at high-class restaurants and resorts.
The foreign languages and professional knowledge in cuisine and restaurant service play crucial roles in the program.
Lecturers are experienced and hold management positions at many prestigious restaurants and hotels.
Program overview:
Students will be equipped with specialized knowledge and skills:
Understand the knowledge of high-quality ingredients processes, proper mixing of ingredients and seasonings, and creativity in food production and presentation.
Organize catering events such as tea party, breakfast, lunch, dinner, and buffets
Organize and manage bar service, apply knowledge of wine and beverages in consulting with diners.
Develop operational plans and procedures in restaurant design and management.
Courses highlights: Food service operation, Food production, Oenology, Restaurant design and development plan, Introduction to event management, M.I.C.E management, Catering for events, Contemporary issues in the hospitality industry, Economics in tourism and hospitality industry, Cost control in food service,..
Opportunities to participate in exchange programs and receive scholarships
– Erasmus scholarships for tourism faculty students up to 6,000Euro for one semester (03 months) in Europe.
– Student exchange programs, internships, salaried work, short and long-term training programs with prestigious industry partners in the world: Vatel (France), PIHMS (New Zealand), Universiti Brunei Darussalam (Brunei), The Hanze (Netherlands), Prince of Songkla (Thailand), Taylor's University (Malaysia).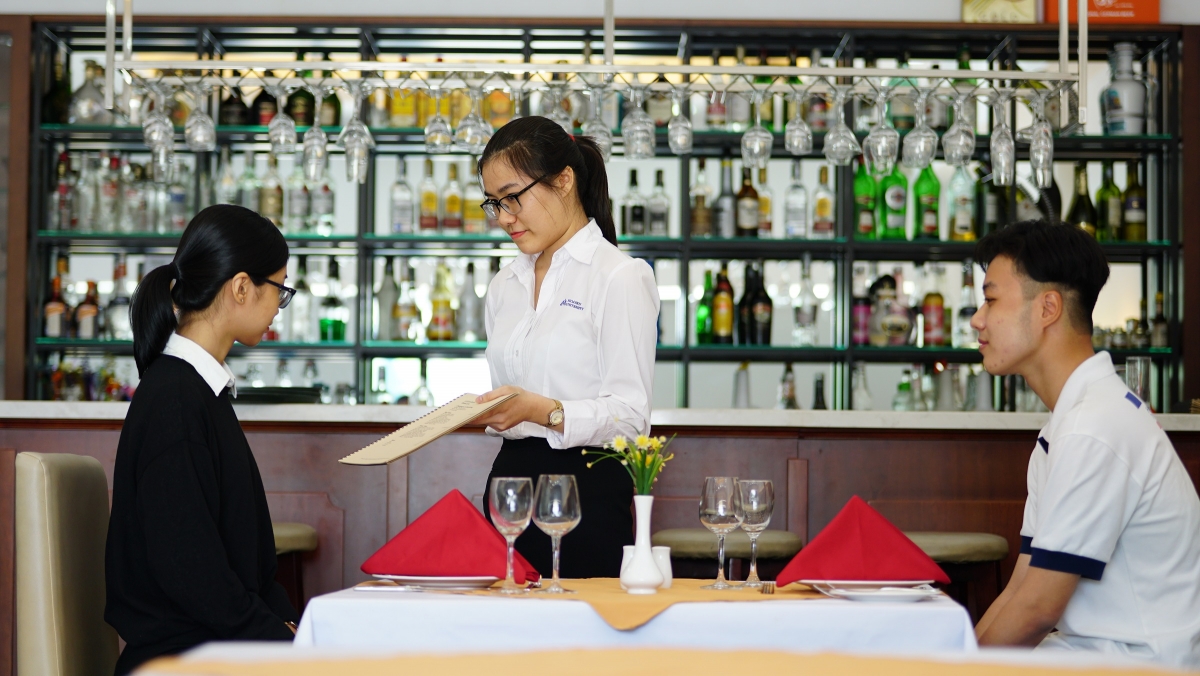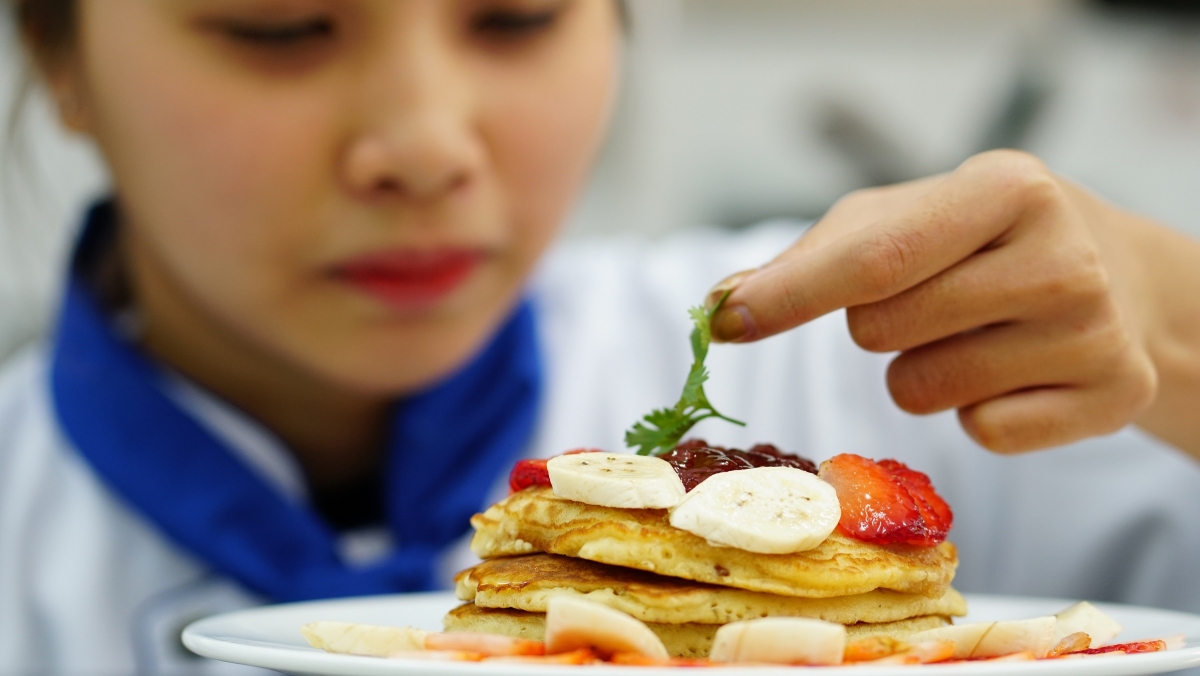 Job opportunities
After graduation, students can confidently work in well-known restaurant chains or the world's leading hotel groups in Vietnam and regions in the following positions:
Specialist in Wine, in European-Asian-Vietnamese pastries and bakery
Specialist in organizing culinary events, in operating and managing food services.
Manager in food service, bar, and human resource,..
Strategic partners
Partners accepting internships and recruitments upon graduation: IHG Thailand, Nikko, New World, Caravelle Saigon Hotel, Intercontinental Asiana (Saigon), Equatorial (HCMC), Pizza Hut, Vietstar, SeaLinks, SaiGon Tourist, iVIVU. com, Thanh Thanh Cong Tourist, Majestic Saigon, Merperle Hon Tam Resort.
"What I have received today are highly valuable lessons along with dear companions and teachers. Especially it is the opportunity to experience the culture of each region through projects and practical learning at the work placements. At the same time, it is also the awareness, the ability to work independently and the spirit of lifelong self-study for the whole road ahead." Nguyen Le Nhu Hue, Alumni of K13
"From the perspective of a person working in the culinary field, I realize that: Hoa Sen University lecturers with teaching experience and degrees have helped me improve in the pedagogical environment. I feel proud of the students, because most of them are invited to stay after finishing the internship at the enterprises. This shows that students are trained in solid knowledge, good at soft skills and foreign languages ​​to confidently complete your school program, solve life situations and quickly integrate into the corporate environment." Vo Hoang Nhan – Lecturer in Tourism Faculty_ The Champion of Top Chef 2014. Collaborating for many programs such as: Món ngon mỗi ngày, Thiên đường ẩm thực, Mình ăn trưa nhé, Mỹ nhân vào bếp sitcom _ season 1 and 2.
Program content (Curriculum):
The program period is 4 years, equivalent to 120 credits, excluded the Physical Education courses (150 periods) and National Defense Education (165 periods), including:
General knowledge
Social Science courses: Introduction to Research Methods, Intercultural Communication,…
English: EGC (420 periods)
Mathematics, Informatics, Natural Science, Environmental Technology
Foundation knowledge:
Foreign Language 2 (French/ Japanese/ Chinese/ Korean/,..)
Liberal support knowledge: contemporary issues in the hospitality industry, hotel development plan,…
Professional knowledge
Fundamental courses: Introduction to hospitality and tourism, Economics in hospitality and tourism, Accounting principles, E-Commerce, …
Specialized courses: the Vietnamese program is taught entirely in English from year 3 onwards, including 10 specialized subjects in English.
Admission combination:
A00: Maths, Physics, Chemistry
A01: Maths, Physics, English
D01: Literature, Maths, English
D03: Literature, Maths, French
D09: Maths, History, English