INSTITUTION CODE: HSU
PROGRAM CODE: 7810201
ADMISSION COMBINATIONS
A00, A01, D01/D03, D09
Program Introduction
Hotel Management – Catching the trend, becoming an upper manager
Services play an increasingly important role in any economy and are an element contributor to world economic growth. Since 2001, the service industry has contributed to 72% of GDP in developed countries and approximately 52% in developing countries. (Indermit Gill, 2021)
In Vietnam, the trend of gradual shift to service industries is also taking place strongly, because this is a potential economic industry. Hotel management belongs to the service industry group that attracts dynamic, responsive, curious young people who love to discover new things.
Program highlights
Met the outside assessment standards of AUN-QA (ASEAN University Network – Quality Assurance)
The training program is updated according to the trend of developing professional skills and knowledge in accordance with social requirements;
Practical room with fully equipped 5-star standard, helping students practice skills and adapt to the international working environment;
Students hone practical skills through internships, field trips, and visits to high-class hotels.
Lecturers are experienced and hold management positions at many prestigious hotel
Program overview:
Students are trained in professional skills and knowledge, fluent in foreign languages ​​to meet their capacity to become senior managers in the industry; the ability to communicate effectively and persuade a wide range of customers from many different cultures; the ability to work independently, in groups, to be sensitive and easily adapt to the rapidly changing working environment and international integration
With 2 internships and projects, students can work in hotels and resorts of the world's leading hotel and restaurant management groups, and experience the actual operation of the hotel. each department, from reception, events, rooms to management positions and strategic planning.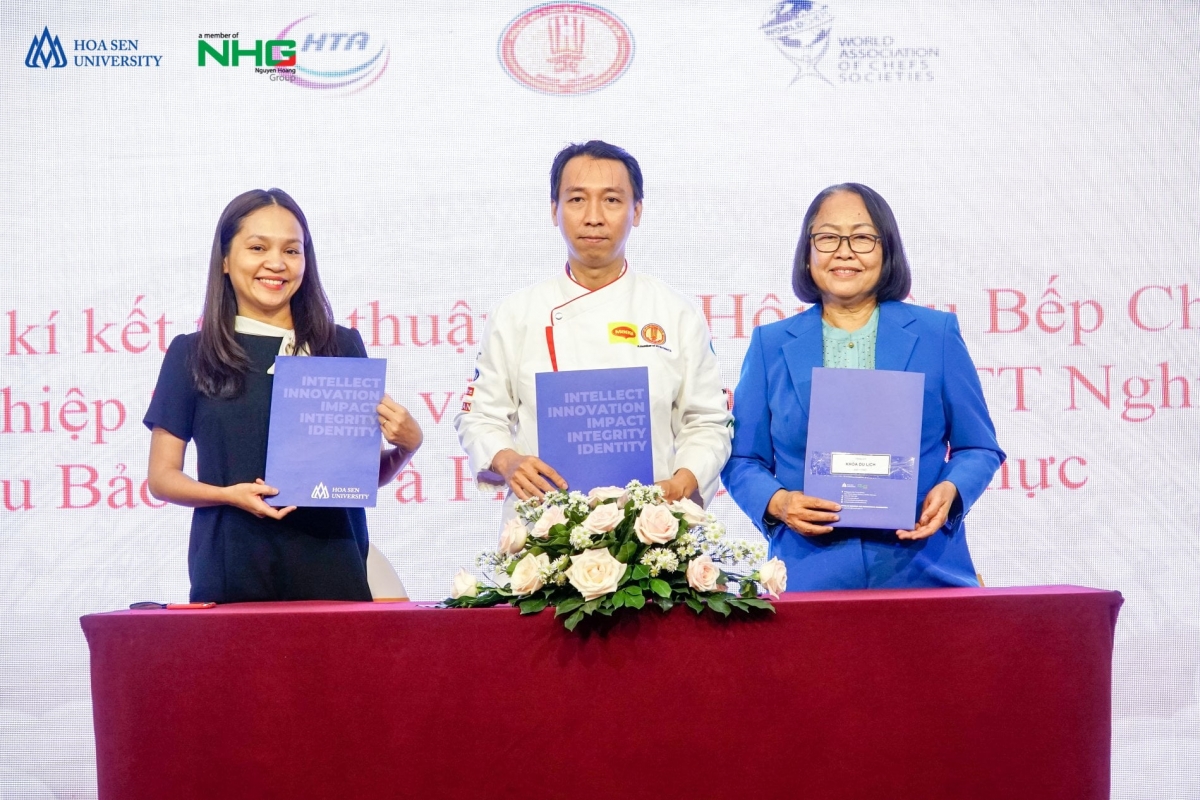 Career opportunities
After graduation, students can work in international hotel groups like Marriott, Accor, IHG,… from middle and upper management such as:
– Supervisor of the hotel department
– Duty Manager of the department
– General Manager of the hotel department
– Customer service specialist
– HR department specialist
– Supervisor of a 5-star restaurant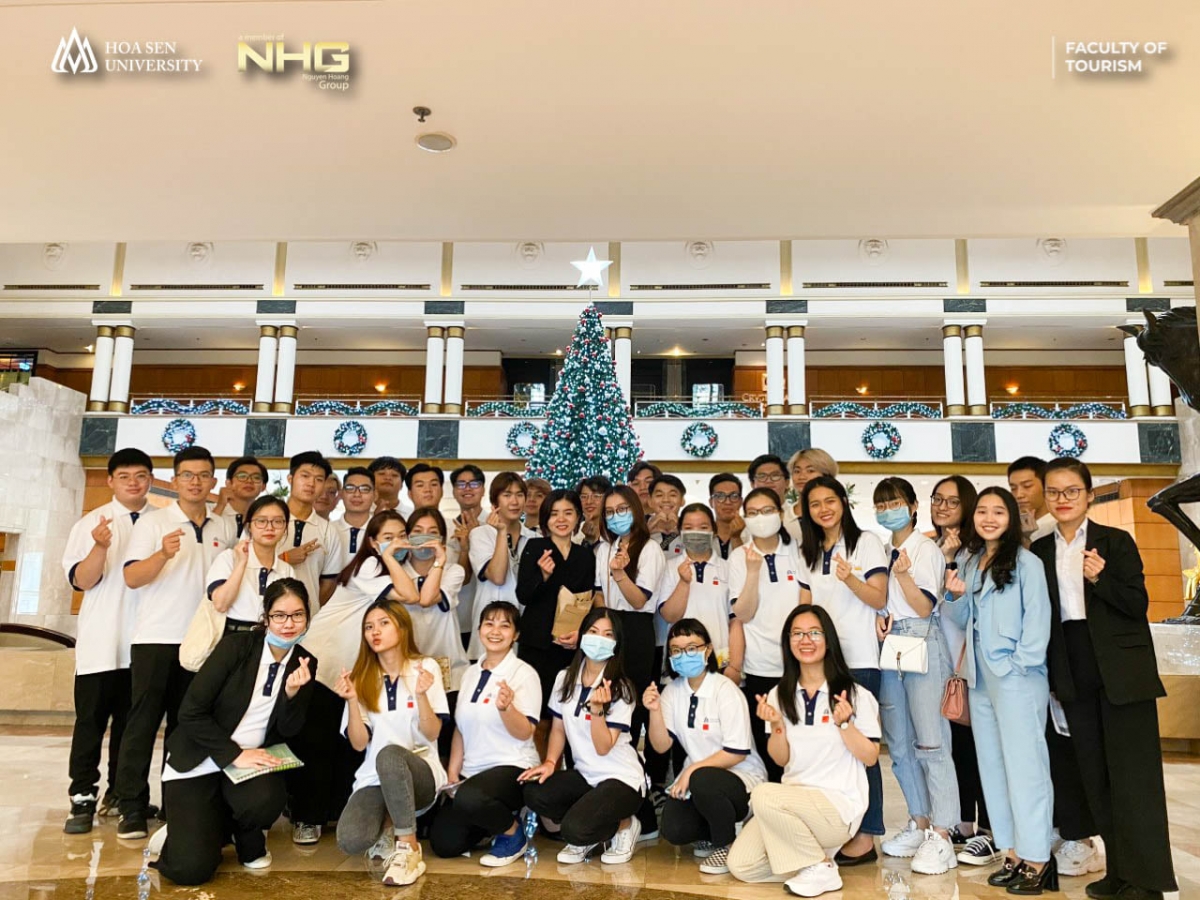 Strategic partners: Caravelle Saigon – New World Saigon Hotel – Siverland Hospitality – Oakwood Residence Saigon – Holiday Inn & Suites – Mai House Saigon Hotel – Park Hyatt Saigon – JW Marriott…
Alumni's share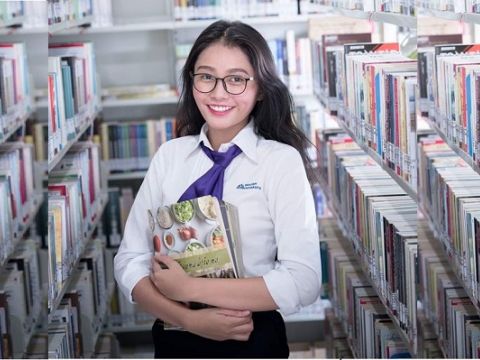 "During my study period, I was oriented to my future work through enthusiastic support from experienced lecturers in the profession. Practicing with the model hotel system at Univesity and businesses also helps me improve my skills and apply theory to practice, better understand the nature of the profession." – Nguyen Ha Phuong Duyen, alumni.
Program content (Curriculum):
The program period is 4 years, equivalent to 120 credits, not counting Physical Education (135 periods) and National Defense Education (165 periods), including:
General knowledge
Social Science courses: Introduction to Research Methods, Intercultural Communication and social values.
English: EGC (420 periods)
Mathematics, Informatics, Natural Science, Environmental Technology, fundamental knowledge.
The second Foreign Language (French/ Japanese/ Chinese/ Korean)
Optional complementary courses: Restaurant design planning, Cost control in Food-service, Negotiation in tourism business.
Professional knowledge
Fundamental courses: Introduction to hospitality and tourism, Economics for tourism and hospitality, Introduction to Accounting, E-Commerce.
Specialized courses:
Study entirely in English from the third year.
Front Office Management
F&B Service Operation
Gourmet Culture
Customer service in a global environment
Hospitality Sales Coach
Managerial skills and Leadership in Hospitality
Contemporary Issues in the Hospitality industry
Reservation and Revenue Management
Hotel Planning and Development
Room division Management
Managerial skills and Leadership
Finance in Hospitality
Introduction to Events Management
M.I.C.E Management
F&B Management
Catering for Events
Admission combinations:
A00: Maths, Physics, Chemistry
A01: Maths, Physics, English
D01: Literature, Maths, English
D03: Literature, Maths, French
D09: Maths, History, English