"SURVIVING" SKILLS FOR UNIVERSITY STUDENTS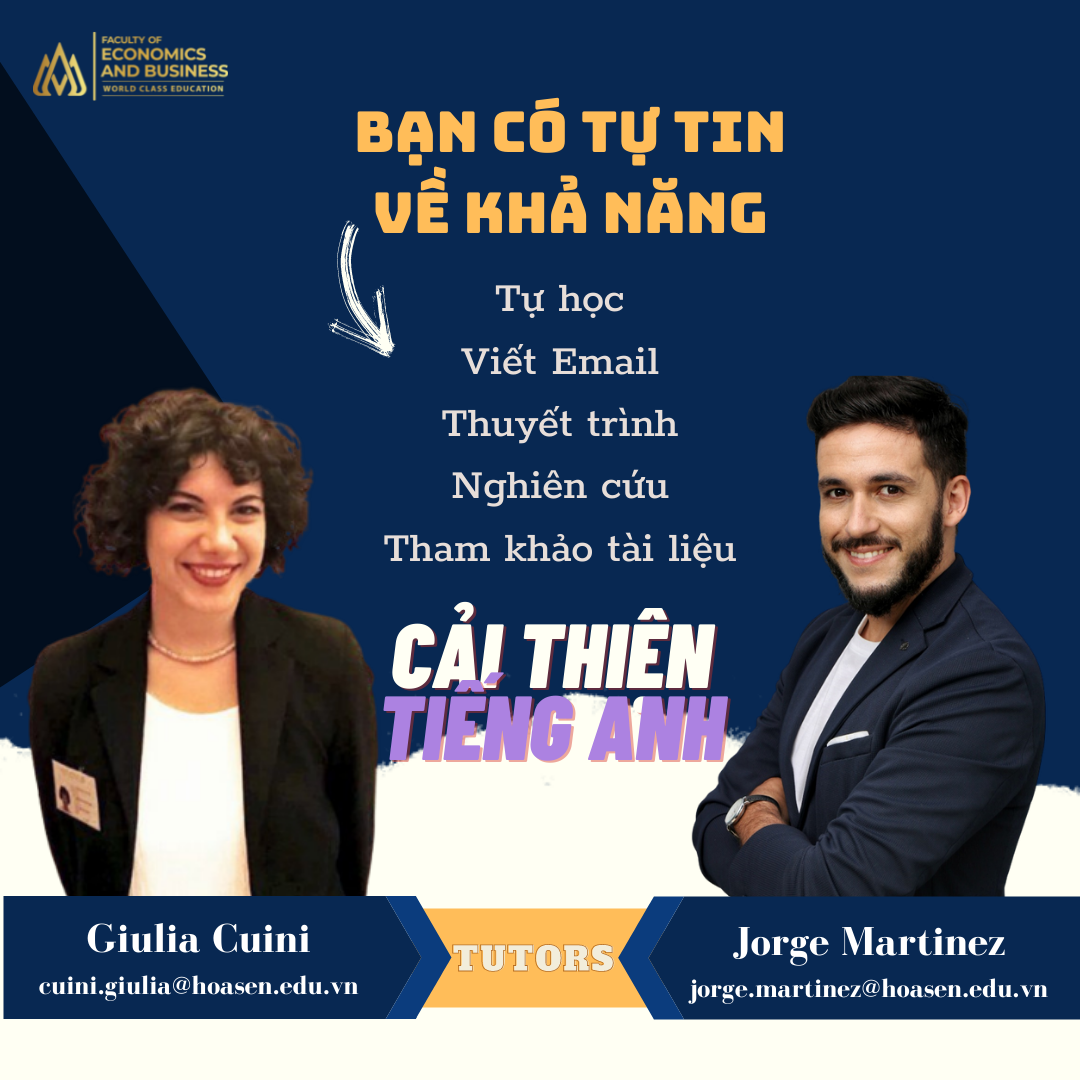 From the first days of entering the University, the "treasure" of the students are the following skills:
🚀Self-study
🚀Email Writing
🚀Reading Comprehension
🚀Presentation
🚀Essay Writing
🚀Material Reference
With the desire to help students improve both their Academic Skills and their English effectively, the Faculty of Economics – Business introduces to you two experienced Tutors who are also foreign lecturers in the Faculty.
Ms. Giulia Cuini, Lecturer in Marketing
🎓Education:
PhD candidate in Applied Social Sciences at the Hong Kong Polytechnic University
MA in Global Politics and International Relations at the University of Macerata, Italy
Schedule: Tuesday and Wednesday (9:00 – 16:00)
✍️Email: cuini.giulia@hoasen.edu.vn
Mr. Jorge Martinez, Lecturer in Digital Marketing
🎓Education:
MSc. Chemical Engineering, University of Valladolid, Spain
MBA in International Management, International University Menendez Pelayo, Madrid, Spain
Schedule: Monday and Thursday (9:00 – 16:00)
✍️Email: jorge.martinez@hoasen.edu.vn
Students can meet Mr/Ms at the Office of the Faculty of Economics & Business by appointment by email!
—
CONTACT INFO:
Faculty of ECONOMIC – BUSINESS – HOA SEN UNIVERSITY
🏬 Room 706 – Facility 08 Nguyen Van Trang, Ben Thanh Ward, District 1, City. Ho Chi Minh
☎️ Phone: (028) 73091991 – EXT: 11 524
💻 Website: https://www.hoasen.edu.vn/ktqt/
📧 Email: khoaktqt@hoasen.edu.vn