Program introduction
Vatel's mission is to train high-quality human resources for the Hospitality Industry. With over 40 years of experience and more than 55 campuses in many countries worldwide, Vatel provides an international standard training program to over 9.000 students. Vatel's training program is based on the balance of theory, practice, and realistic probation.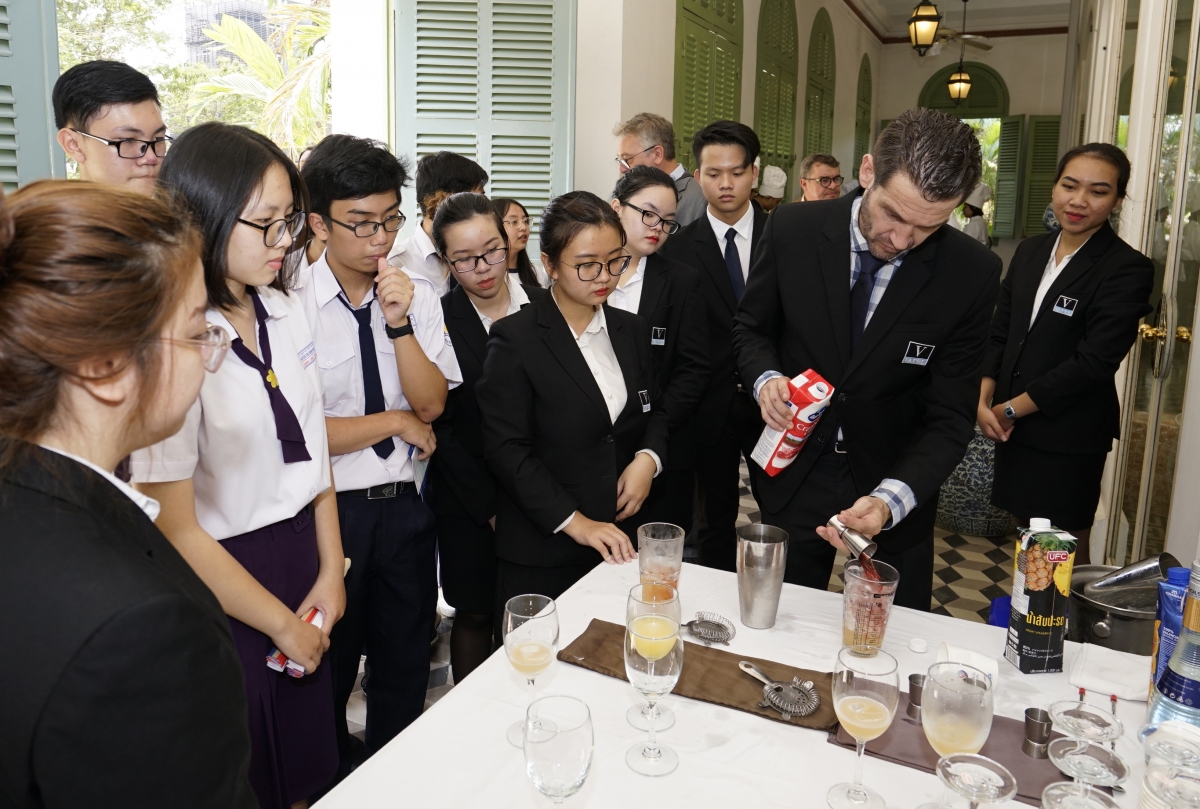 Vatel advanced curriculum and program quality have been awarded 2 titles by Hotel International Association in November 2010: Vatel's students easily integrate into the Hotel and Profession Service industry after completing the program; 100% Vatel's graduated students find a suitable job within 3 months of finishing training courses.
Why choose this field?
Program's advantages in others comparing
100% English teaching
Lectures are local and foreign experts with many years of experience
Practice in high–end restaurants and 4 – 5 stars under instructed by hotel specialists
Practice and internship count for 70% of the total course
Training qualified work skills, spirits, and attitude
Participate in the Marco Polo exchange program in the Vatel system of 55 campuses all over the world
Dynamic, international study environment
Job opportunity divers in many different hotel departments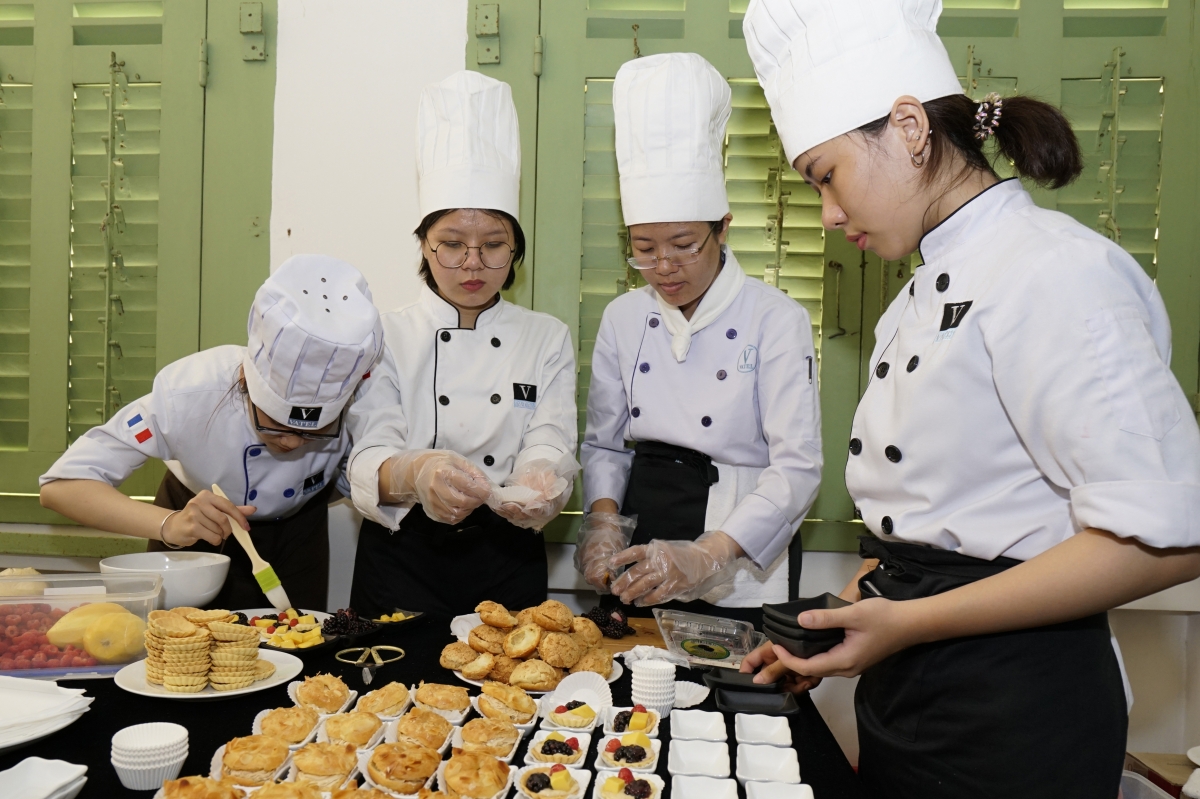 Career path
Vatel program trains high quality employees for domestic and Asia Restaurant – Hotel. Graduated students can work for international hotel and restaurant in coordinator and assistance of coordinator management:
Hotel Manager
Restaurant Manager/ Owner of a Restaurant
Khởi nghiệp trong lĩnh vực nhà hàng/ Cafe shop/ Dịch vụ lưu trú
Front Office Manager
Human Resource Manager
Sales Manager
F&B Manager/ Event Manager
Tourism
Airlines
Admission
I. Applicants and form of admission
Applicants: Candidates must qualify one of conditions:
Candidates graduated high school, English IELTS 5.5 or B2 according to Common European Framework of Reference for Languages) or equivalent and valid until time of receiving application as well as meet the program requirements.
(*) The National High School exam's result is deployed for October course and the next year's March course
Candidates who have graduated from an international high school program taught in English in Vietnam or abroad.
The candidate has graduated from high school and meets the program's admission requirements.
Admission form:
Subject (1) & (2): review the application and take part in the capacity examination and interview study dynamic.
Subject (3): candidate joins the examination which is organized by Hoa Sen University and Vatel. The content includes:
English
Test of career suitability
Interview study dynamic
II. Duration and degree:
Vatel Student will study in 3 years. The graduated student will be awarded the Bachelor's degree in International Hotel Management by Vatel International Business School of Hospitality and Tourism Management is part of Vatel Group.
III. Information of application
1. Application:
01 photocopy (*) of high school diploma.
01 photocopy (*) of Identity card.
01 photocopy (*) of International English Certificate (for candidates who skipped the English test).
01 photocopy (*) of 3 year high school reports.
01 photocopy of birth certificate.
04 3×4 figure.
(*) Candidates bring the original for verification or apply a notarized photocopy. The candidates add notarized Vietnamese
2. Timeline:
Content
Course 10/2022
Submit application form
From announcement to 10/10/2022
Announce result and list of selected students
First phase: August 22, 2022
Second phase: September 19, 2022
Third phase: October 17, 2022.
Apply for admission From
6/2022 to 10/10/2022
Official admission
October 24, 2022
3. Tuition: 150.000.000 VND
4. Location
Room 002 Admission counseling for the Vatel program
No. 08 Nguyen Van Trang, Ben Thanh Ward, District 1, TPHCM
Phone: 028 73091991 (external number: 11547) – Hotline: 076 422 6632
Email: admissions@vatel.vn – Website: http://www.hoasen.edu.vn – http://www.vatel.vn
Tuition & funding support
Hoa Sen University and Vatel HCM Program each year have many talented scholarships for candidates with excellent English proficiency and interview scores. In addition, Hoa Sen University has many special supports and incentives for students with different economic conditions to help them access the program.
For more information, please contact:
Vatel's Office
R.709 – 08 Nguyen Van Trang, District 1 – HCM
Tel: 028 73091991 (ext: 11546) – Hotline: 093 824 5424
Training Objectives
The program trains students to be able to work in executive and management positions in the field of international hotel and restaurant tourism. After three years of training, Vatel graduates are fluent in English, knowledgeable in management, and have professional skills in all departments of restaurants and hotels such as: F&B, Front Office, Marketing, Human Resource… and has nearly 1.5 years of practical experience through 3 internships at hotels and resorts at home and abroad. Students are able to meet the requirements of promotion opportunities after a few years of work experience after graduation.
The Vatel program is a methodical combination of advanced management science with professional experience in the hospitality industry and restaurant management. Training effectiveness is enhanced through immediate application of theoretical knowledge to practical work.
COURSE CONTENT
TRAINING TIME
Standard 3 years. Consists of 6 semesters and 3 compulsory internships at hotels (internship period: 4 months in year I and II, 6 months for internship in year III).
The entire program 100% English teaching, according to the training technology transferred by Vatel International School of Tourism and Hospitality:
Year 1: Students have basic access to knowledge of marketing, human resource management, administration, specialized culture as well as skills to behave professionally in accordance with other cultures. each to initially become proficient in service, food processing techniques, organization of parties, events, conferences and how to handle unexpected events that may take place. Students will end the school year with an internship at a hotel.
Year 2: Along with continuing to improve professional theoretical knowledge, students will experience more management skills in specific real-life situations. Students learn practice in the professional departments of hotels 4 – 5, team management skills will be enhanced through managing a group of 1st year students, as well as being managed by students. 3rd year student. At the end of year 2, students will have enough confidence to practice abroad and at the same time perfect their ability to use foreign languages ​​fluently and professionally.
Year 3: Students are fully equipped with all necessary knowledge. At this stage they are ready for the position of managing a group, right in the Vatel school itself. Students have the ability to evaluate, apply the knowledge they have learned to solve work like a real worker. Followed by a 6-month internship specializing in a department that students choose as a future career. All these experiences allow students to become management trainees in high-class Hotels and Restaurants without any hindrance.
| | | |
| --- | --- | --- |
| 1st Year | 2nd Year | 3rd Year |
| Accountant 1 | Accountant – Finance 2 | Accountant – Computer 3 |
| Marketing 1 | Marketing 2 | Marketing 3 |
| Human Resources 1 | Human Resources 2 | Human Resources 3 |
| Computer Science 1 | Computer Science 2 | Taxation |
| Company Economíc | Hotel Law | Computer Science 3 |
| Professional Culture | Business Law | |
| Self Image | Economy of Tourism | Multicultural Management |
| Nutrition 1 | Economic Environment | Hospitality Sales |
| Wine Vintages | F&B 2 | Wine, Beer and Spirits |
| Hotel Visit | Oral Communication | Tourism and Traveling |
| Foreign Languages 1 – Eng | Nutrition 2 | Geopolitics |
| Foreign Languages 1 – Fra | Worldwide Wine Vintages | Negotiation |
| Initiation to restaurant practices | Foreign Languages 2 – Eng | Foreign Languages 3 – Eng |
| Initiation to cooking practices | Foreign Languages 2 – Fra | Foreign Languages 3 – Fra |
| F&B Environment 1 | Professional Practices at Hotel | Career Project Introduction |
| Hospitality Environment | International Professional Internship and Report | Career Project Thesis and Professional Internship |
| Professional Practices and Domestic Internship | | |
TRAINING PROGRAM
Degree
Graduates will be Bachelor level and awarded a Bachelor's degree in International Hotel and Restaurant Management (Manager en Hôtellerie Internationale /Bachelor's degree in International Hotel Management) from the Vatel Hotel & Tourism Business – French Republic – The "Best Hospitality School" in Europe in training hotel and restaurant management. (*Ifop 2007).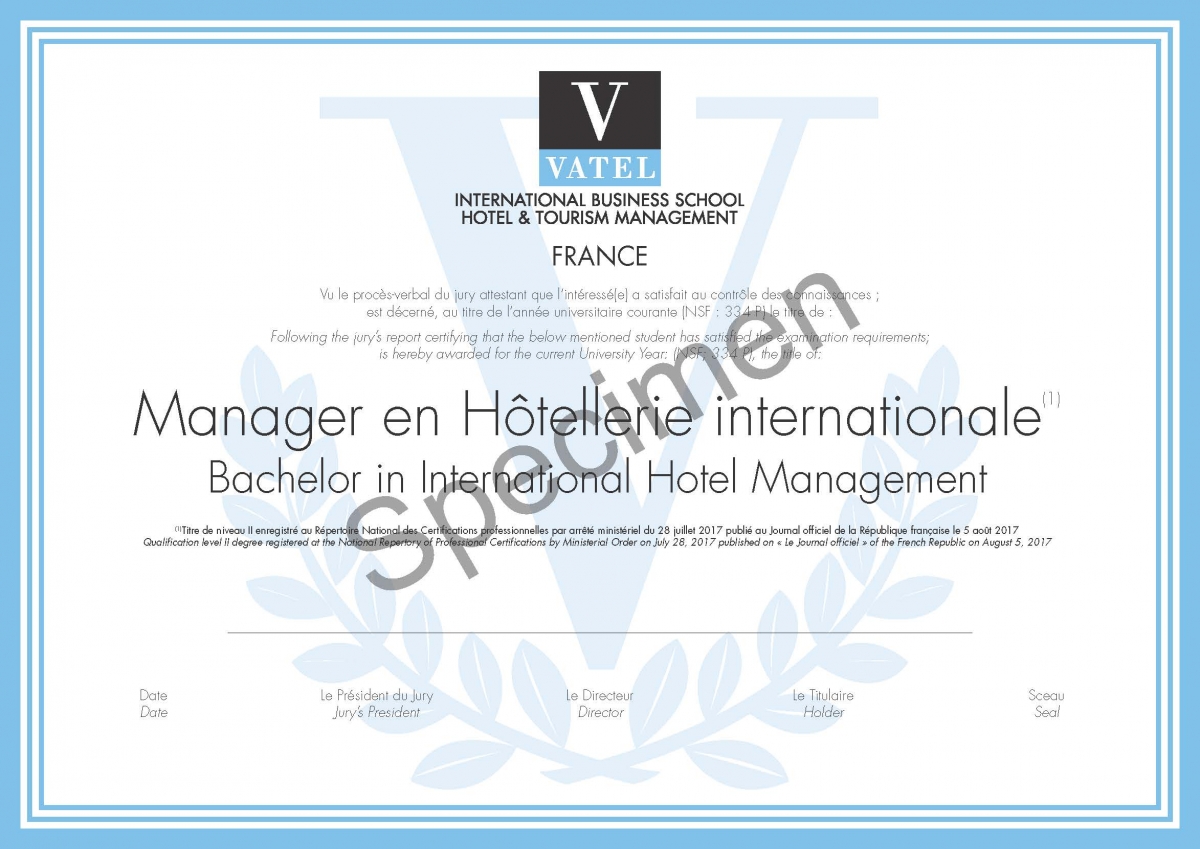 * Ifop 2007: Institut Francais d'Opinion Publique – The first and leading French Institute for Market Research and Public Opinion with the participation of Hotel managers in Europe)