Why Us?
The Bachelor of English language training program with two majors, namely English Teaching, Business English – Corporate Communication, is designed based on reference to training programs of universities. To ensure quality in today's globalization trend, (i) all lecturers involved in teaching the program have a Master's degree or higher and have studied at or graduated from foreign universities; (ii) the program is also evaluated and updated after four years of application, through a survey of opinions of businesses, alumni and students.
During this program, students also learn with native speakers, have many opportunities to interact with international students, and even exchange semesters with Hoa Sen universities' foreign partners.
Because the English language major focuses on practice and application in the natural environment, students must undergo two internships, each from 2 to 4 months, at establishments, domestic enterprises, and joint ventures or foreign companies. This helps students gain confidence and more experience in a dynamic working environment. The top companies that accept English language students for internships are:
Sony Vietnam Company;
International academic association company;
HAT study abroad consulting company;
SEAMEO Regional Training Center;
EF International Education Organization.
The Bachelor of English Program helps students:
Develop practical communication skills;
Improve the ability to self-study, exploit, process information, and critique;
Increase students' initiative through developing skills in teamwork, report writing, discussion, and presentation…;
Promote creative dynamism throughout the learning process, especially with two compulsory subject projects, helping students to have practical exposure conditions.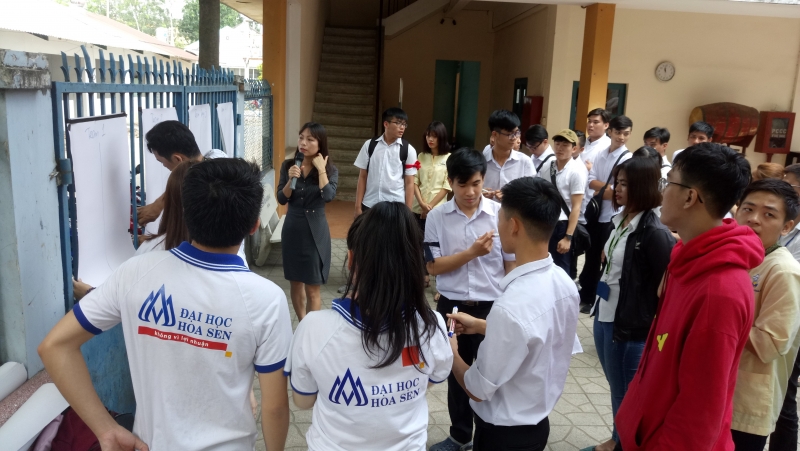 The training objective of the Master of English Language Program is to help students:
Analyze and justify from different perspectives the problems arising in modern society related to language and communication;
Present and critique research results independently and confidently;
Effectively and creatively apply information technology in teaching, and research.
Job opportunities:
Bachelor's Program in the English Language
For many years, the rate of students majoring in English at Hoa Sen University who have jobs right after graduation has been over 80%.
Graduated with a major in Teaching English, students can participate in teaching at foreign language centers;
Graduated with a major in Business English, students can work as Assistants, Sales Executives, Marketing, and Customer Caring … at agencies and foreign enterprises.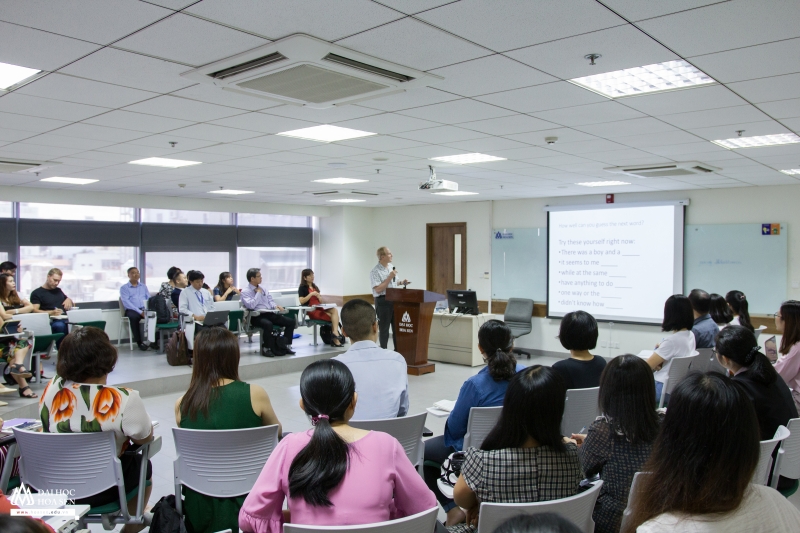 Master's Program in the English Language
Graduated with a major in English language teaching, graduate students can participate in teaching, research, and managing English training programs at foreign language centers, universities, colleges, and foreign educational and training institutions.
General English Program
Why study English as a foreign language in the General English Program?
Over the years, employers and society have recognized students' ability to use English significantly, making a difference for graduates from Hoa Sen University. The recognition and high achievements in training are thanks to the combination of many factors that have been and are present in the General English Program:
Vietnamese and international lecturers are strictly selected, well-trained, enthusiastic, dynamic, and dedicated to teaching;
Professional and innovative training methods that meet international standards;
Modern learning curriculum, updated and compiled by the academic department and experienced instructors;
Activities to support students in learning are always concerned and promoted to help students achieve the best results.
Choosing to study English as a foreign language at the General English Program is closely linked to students' job opportunities upon graduation with their ability to use English fluently. In addition to qualifications and professional experience, English has become a recruitment criterion for some business candidates. Although not required, there is a particular preference for candidates with better English skills than the rest. Moreover, the trend of studying abroad is becoming increasingly popular and is chosen by parents and students. Suppose you are a student with fluent English communication skills. In that case, you will have a better chance of grasping domestic and foreign scholarships, internship opportunities, and the ability to find jobs at large corporations and companies after graduation. In other words, with outstanding English skills, you will have advantages that others do not have when applying for jobs, so you have a better chance for career advancement and the whole world.