HOA SEN UNIVERSITY MARKETING CLUB
WE ARE:
MarHub stands for Marketing and Hub. We are a networking community for Marketing-lovers to update marketing knowledge and share experiences with each other. Our core team members are currently studying at Hoa Sen University. However, most of us have experience working in the Marketing field as interns and fresh graduates. Therefore, we understand some of the prerequisites that Marketing graduates face before entering this field.
VISION:
A pioneering Marketing Club where young Market-ers can experience and unleash their potential by practicing practical and important skills to keep pace with the rapid change in the Marketing world. APPROACH: We integrate both online and offline operations and membership structures to deliver value.
MISSION:
1. Create a professional environment for students with a passion for Marketing at Hoa Sen University
2. Keep students keep up with the current trends around the world in the marketing field.
3. Focus on reality by providing workshops, offline activities, and interactive playgrounds like marketing contests to develop students' skill sets.
VALUE:
ADVISOR:
ORGANIZATIONAL STRUCTURE:
SOME HIGHLIGHTS EVENTS:
GOOGLE DIGITAL 4.0
Collaborate with VCCI and Google
Digital training for students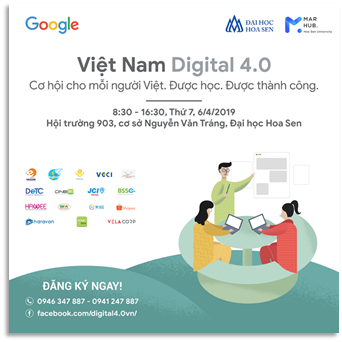 KICK-OFF EVENT
29.05.2019 – 31. 05.2019
Never Stand Still Brand Activation
MarHub Kick-off day
Ready, Set, Run workshop
CONTACT INFORMATION:
Advisor: Ms. Van Nguyen
Email: van.nguyentrankieu@hoasen.edu.vn
Phone number: 0988665077
President: Quynh Nguyen
Email: quynh.nld1526@sinhvien.hoasen.edu.vn
Phone number: 0938994601
OPERATION TIME 2020:
WE ARE MARHUB!