EVENT MANAGEMENT
JOURNEY FROM PASSION TO THE LIMELIGHT
The important role of the event manager
Currently, event manager is a "hot" job in event industry that many dynamic and creative young people choose as the future profession because of its flexibility, attractiveness, and modernity. Statistics in 2020 show that the revenue from the Events field reaches more than 1,900 billion VND. A successful event needs many factors in which the event manager plays the most important role.
Event Management at Hoa Sen University
Understanding the demand from the market, Faculty of Tourism – Hoa Sen University is proud to be the first university in Vietnam to train a bachelor's degree in Event Management. Students learn in a dynamic environment with highly applied subjects, experience as a professional event organizer from receiving customer requests to coming up with ideas and organizing the event by themself.
The course focuses on practice, leadership, and event organizing in an integrated environment to develop business and start-up capabilities. Furthermore, this program provides students the ability to adapt to diverse working environments.
Strategic partner in Event Management industry
Throughout the program, learners will have the opportunity to have realistic experience, intern for 6 months at partner businesses in the field of events and media such as Viral Town Media and Experience Company, Square Group, Nam Phuong Event organizer, Dong Tay Promotion Company, Dien Quan Media & Entertainment, Cat Tien Sa Media Group, …
Especially, you also can receive Erasmus scholarship for Student Exchange Program in Tourism Faculty in Europe which is worth 6000 EUR. In addition, the graduation thesis is considered as a start-up project. There are opportunities for investment and support from the Angel Fund and the Institute of Innovation – Entrepreneurship of the University.
Career opportunities
After graduating, students can work in the event industry in such businesses as event companies, tour operators, restaurants, and hotels.
Event manager, event coordinator
Exhibition manager
Conference Services Manager
Wedding planner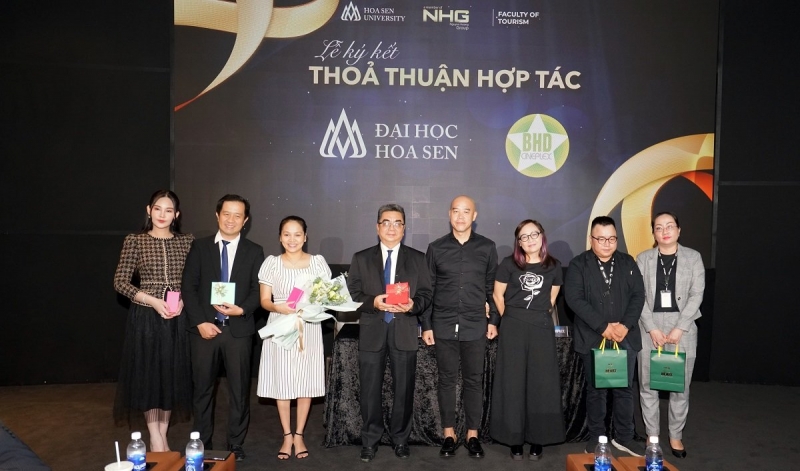 Admissions
Admission Criteria:
High school graduation
Specialisation: A00, A01, D01/D03, D09