VNG GAMING SCHOLARSHIP 2022 – OFFICIALLY OPENING FOR SCHOLARSHIP APPLICATION FOR YOUNG TALENTS
At VNG, nurturing and developing young talent seeds is always a top priority. Wishing to accompany and keep the passion burning with Vietnamese students, VNG brings the VNG GAMING SCHOLARSHIP 2022 scholarship program – awarding valuable scholarships to young people who are interested and oriented to develop in the field. promising gaming industry.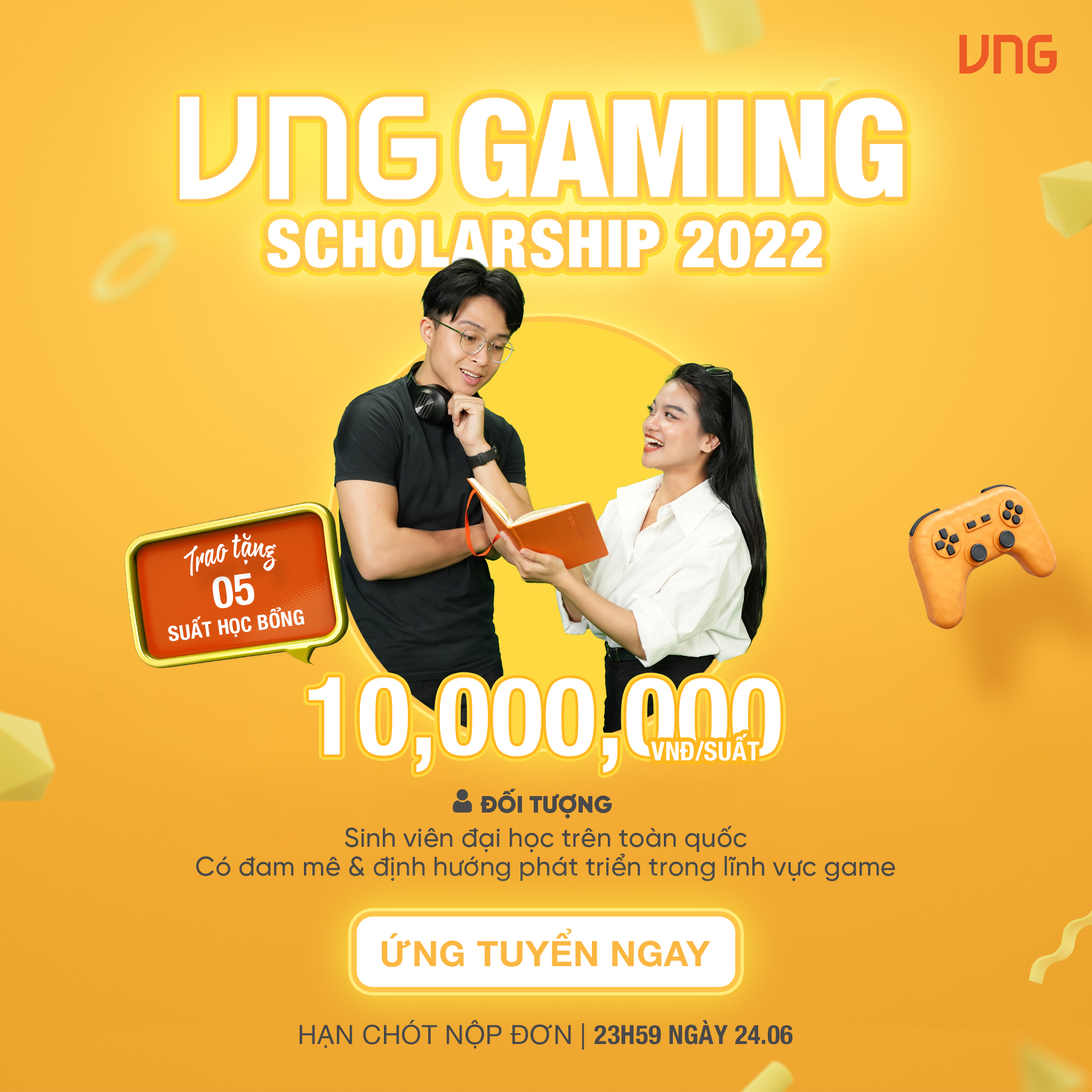 Scholarship Program Information
💁‍♂️ Who can apply:
Students at universities across the country.
Having passion and good thinking in the field of games, having a career development orientation in this "million dollars" industry.
🎓 Opportunity: 05 scholarships worth 10,000,000 VND each will be awarded to 05 students who submit the most outstanding resumes.
Steps to apply for the scholarship:
1️⃣ Step 1: Complete the essay, and answer 02 evaluation questions from VNG.
2️⃣ Step 2: Submit your essay content and register your personal information at the program's official application form 👉 https://bit.ly/VNGGamingScholarship2022.
☝☝☝ Essay topics and requirements, you can see details at the link above.
Program time:
🔸 Application deadline: 23:59 on June 24, 2022
🔸 Announcement & award of scholarships: June 30 – In Ho Chi Minh City. Ho Chi Minh.
You don't have to be the best student, as long as you show VNG your passion and serious investment in pursuing the industry, the opportunity to receive a valuable scholarship from VNG is in your hands. Take the time to carefully prepare the necessary steps & apply today!
For any questions related to the scholarship application process, please contact the Life at VNG fanpage for answers.
—————————
VNG GAMING SCHOLARSHIP 2022
🔗For more information and scholarship registration at: https://bit.ly/VNGGamingScholarship2022
⏰Registration period: 10.06 – 24.06
🔥 Contact information:
Fanpage Facebook Life at VNG
Email: start@vng.com.vn
#VNGGamingScholarship2022 #VNGScholarshipProgram